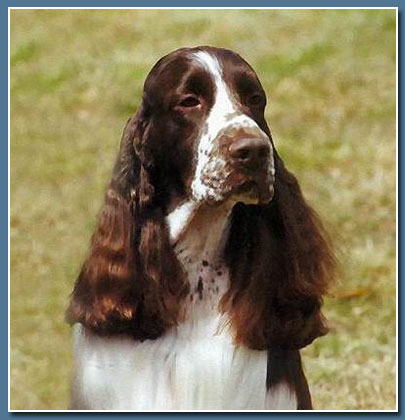 photo: Darren Skipworth
"Onni" (means "Luck" in English) was born 24.9.1995.

Sire: Multi Ch Multi Winner Whisborne Devil in Disguise
Dam: Int & Fin & Est Ch EstW-2000 Adamant's Rose d'Amore

Owners: breeder Tarja Hovila, Adamant's kennels
& Darren Skipworth, Australia & Tiina Mattila

Hips: A-A (Best quality), eyes clear July /2004,
fucosidosis clear (not carrier)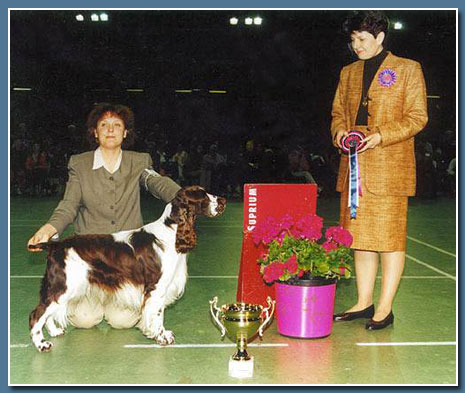 photo: TEXTerri
"A new star is born. This dog is breathtaking. Superb lines, lovely head.
Excellent angulation in both ends. Moves with plenty of drive."

- Knut Sigurd Willberg, UK -
"What an eyecatcher ! Everything I´m looking for in English Springer.
Lovely movement. ery elegant. Well presented. A lot of temperament."

- Marie-Louise Doppelreiter, AUST -
"Magnificent male of lovely model. Lovely well balanced head, nice expression.
Gorgeous neck going well into shoulders, harmonious construction.
Superb topline. Nice body. Fantastic mover with wonderful drive and reach.
Very well handled. A quality dog."

- Critique written by Henric Fryckstrand in Fredericia -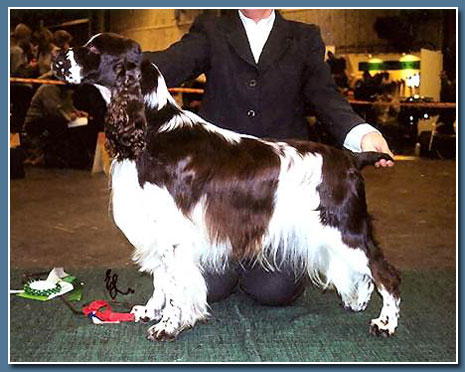 Onni winning Nordic Winner-99 title in Stockholm
photo: Erik Lassuri
Onni has certainly been 'Once in Lifetime dog' in every way!! Onni has got a unique character and he loves to show it in shows. The bigger the ring and the competition, the more he enjoys his performance there. With his very showy and charming way to show he has been highly placed on the top ten of the best Finnish showdogs already in 3 years in row. He was Runner Up Top Dog all Breeds in Finland 1999 and even last year he gained the 5. place, though he interrupted his competing here in July, when he travelled to Australia.
Year 2002 he was again Runner Up TOP DOG All Breeds!!
1997 at two years age only he was the 3. BEST SHOW DOG IN FINLAND ALL BREEDS.
1998 he was 8. best of All Breeds in Top Dog competition. He is of sixth generation our own breeding and those generations are international champions all through!
Year 2000 was an exceptional year for Onni, when he travelled to Australia to Tanalith kennels, owned by Darren Skipworth. He achieved there very quickly his title in wonderful condition and even TWO all breed Best in Shows and numerous BIG wins and Runner Ups in Group. I visited to meet him in April and this year with all excitement of it will be allways an unforgettable memory to both of us! It was lovely to see him there as a happy dog, who obviously was at least as big fan of his co owner as he was here of mine.
Most unforgettable memory of his shows there is may be his BIS All Breeds win at my birthday!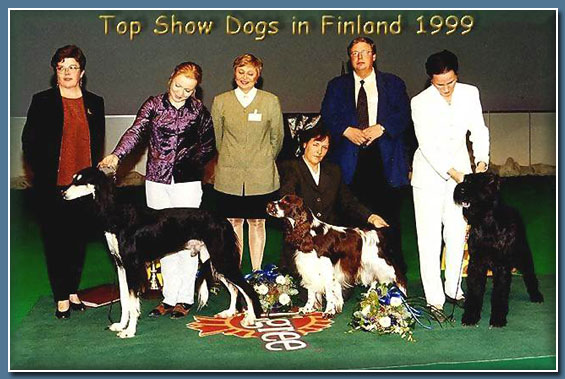 photo: TEXTerri/Paula Heikkinen-Lehkonen
Onni was Runner Up Top Dog All Breeds in Finland 1999 AND 2002!


SPANIEL OF THE YEAR 1999
SPANIEL OF THE YEAR 2000
SPANIEL OF THE YEAR 2002
SPANIEL OF THE YEAR 2003

The Show English Springer of The Year 1996, 1997, 1998, 1999, 2000, 2001, 2002, 2003


As well he has been 'The Best Show Gundog of the Year´ in 6 different years in Finland'.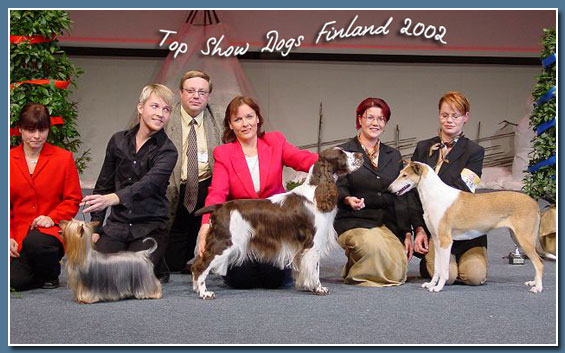 photo: TEXTerri/Paula Heikkinen-Lehkonen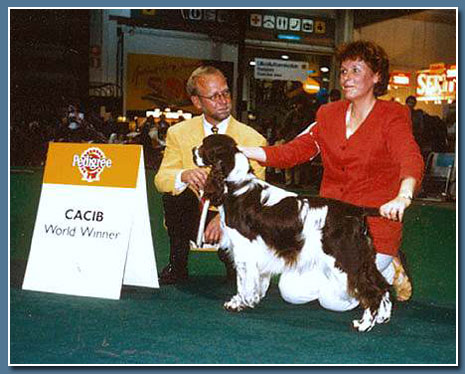 Onni winning World Winner-98 title in Helsinki under Mr Lovenkjaer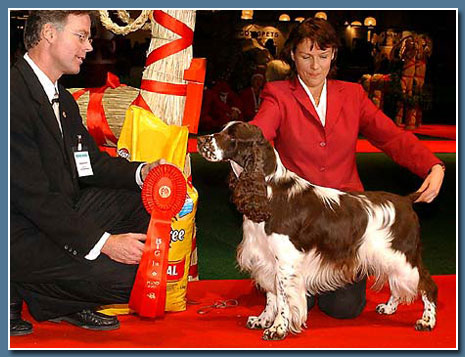 One of the most memorable wins of Onni is certainly his magic
BOB, BIG-1, BIS-5 in Stockholm Winner International All breed Show 2001,
soon after his arrival back home from Australia. Breed specialist Laurent Pichard did the breed, Gun Dog specialist Henric Fryckstrand did the Group and Pamela Cross-Stern from UK did the BIS, which was probably hardest ever in scandinavian show history; there were Top Dog from each scandinavian country and from some two from different years, entry in show was nearly 7000...
At the age of 7 years he has gained about all ESS breed records in the show ring in Finland (except the number of titles, when we have not been interested in to run in Baltian countries at all, when there is no competition in this breed). He could be excellent gundog as well, if we just had time to train in this field. He has won sensationally 53 BEST IN GROUPS already and 15 Best in Shows as well. He has been an important part of the Best in Show winning ADAMANT´S breeders classes at least 30 times!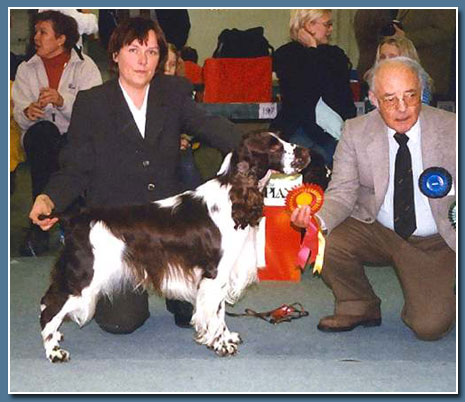 Onni winning BOB under Mr Muirhead, UK (Shipden kennel),
and went later on to BIG-2 under Hans Lehtinen in Turku Top Dog Show 2001
For our pleasure so many breed specialists have appreciated him so highly. He has won BOB:s and BOS:s under Don Miller, Diane Gunn, Jean Taylor, Yvonne Billows, Colin Muirhead, Svend Lovenkjaer, Annika Ulltveit-Moe, Jessie Borregaard-Madsen, Dolores Dinneen, Nicola Calvert among others.
Onni is a great personality. With aging he has understood his values and looks like as he knew how famous he is! In show ring he is like an artist; he gives all his best for sure IF the show arrangements are made enough well for His Majesty... it means he wants lot of room to run in ring, lot of public and applause, good tuff competition and of course he loves the music in final rings! He still loves to play with his soft-toys , and he is used to get a new one after BIS and GROUP wins. As younger he loved to play with our children a lot, but with time he has turned more to be a nice and little lazy couch potato. In Finland he used to be a shadow of his 'mummy' and he was going everywhere where I went.
But in Australia he did not recognize me at all, but was a shadow of Darren.
Adamant's Superman's has sired 16 litters. At least 25 of his children are already Champions and there are many Group winners and Best in Show awards too. His most famous children are INT & FIN Ch, ESTW-00, FINW-00, -04 Adamant's Golden Boy, NO CH SE (u)CH and FINW-00 Nobhill Success Story and then of course his Multi winner, Multi Champion sons in middle Europe as Vagabond of Skyway, Rocco and Rascal zLovparku, who have won countless number of BIG:s, and also BIS.
His success in international huge shows in Progeny classes has been sensational: year 2000 he has won 3 times such a big show with his class...in fourth such show he had not enough children for that , so he decided to take Best in show himself then in Vaasa!!! Entries in these shows were 2500-7000!
He has winning children in
Slovakia, Checz Republic, Finland, Sweden, Austria, Denmark, Australia, USA.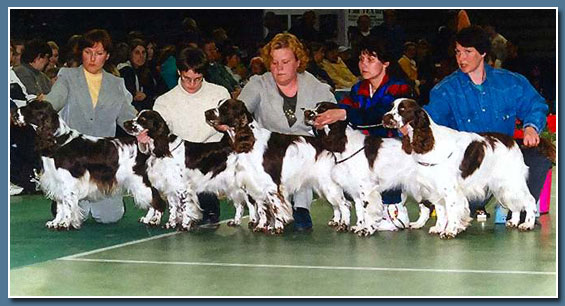 Adamant's Superman's winning another Best in Show progeny group
in International Lahti show 2000!
Dogs: A. Superman, Upgate's Maidens Blush, CH Upgate's Marton My Mate,
Rwyn Veuve Clickquot, CH Adamant's Golden Boy

photo: TEXTerri/Paula Heikkinen-Lehkonen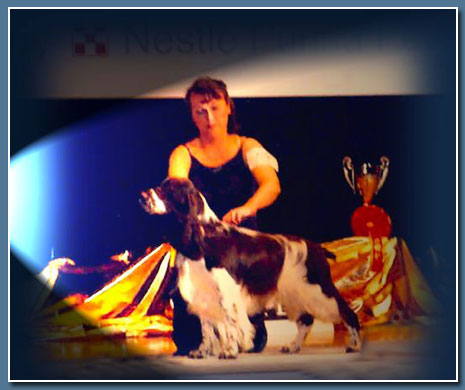 photo: Marjo Jaakkola
Onni has been invited to Champion of Champions gala for Top Show Dogs Finland
each year he is shown through his life!
Here he is pictured year 2002, when he was in very best 8 of all in the final!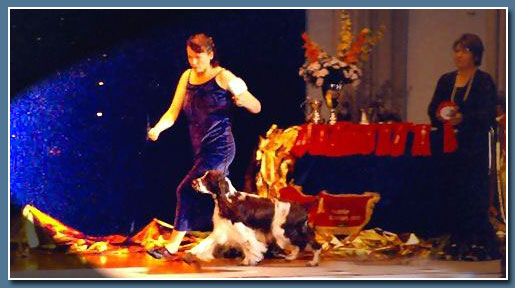 photo: Marjo Jaakkola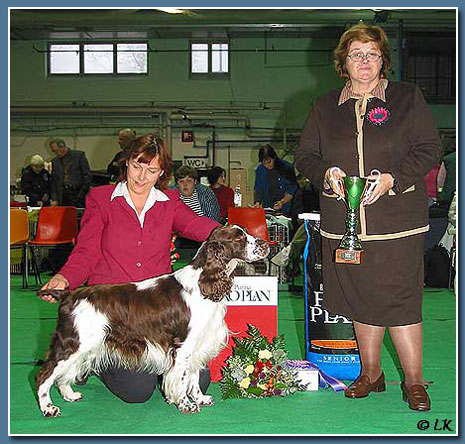 photo: Leila Kärkäs
Adamant's Superman took veteran rings also by storm. 7 x BIS veteran during
first year as veteran.. and BIS-1 veteran in Spaniel Club Main Show year 2003 and 2004!!
He became with this success #3 in Top veteran All Breeds 2004!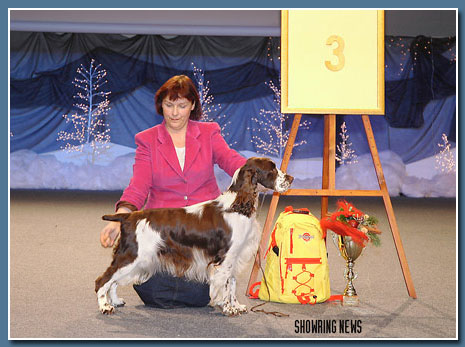 photo: Showring News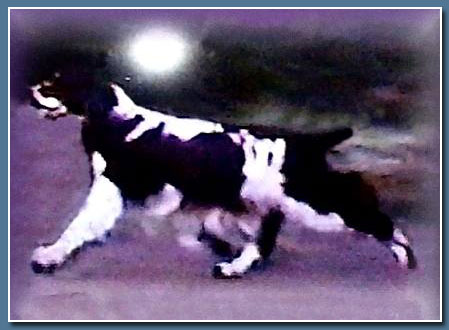 photo: Darren Skipworth