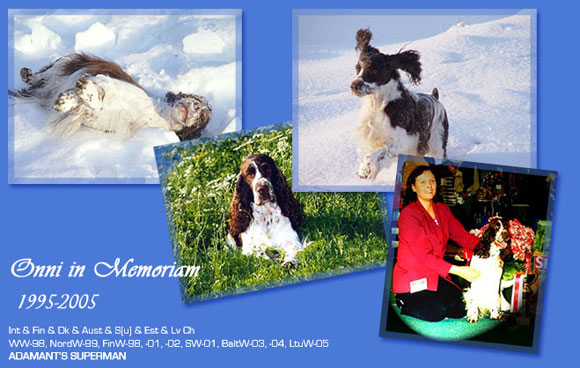 18.07.2005.
When the words are lost, may I take the opportunity and use the text Veera wrote for the introduction of Onni, my dear once in lifetime dog, in May 2005:

"ONNI" (onni means 'luck'in English)

"Onni is a such dog which can be owned only by a very lucky person once in a lifetime. And this is not only related to Onni's legendaric show career but also his most unique and great personality and the extremely special relationship which Onni and Tarja has: it is very hard to describe to anyone, it must be seen and experienced by oneself how beloved those two are to each other.

Onni has a great deal of confidence in himself and very high self-esteem. Often he seems to be sure that he is the most extra-ordinary being in the world. However, above all Onni is a most social dog who gets very well along with all and is still as a veteran amazingly intrested in all new meetings from young wild males to old ladies. At home Onni is absolutely the boss of our doggie bunch even though he totally lacks the ability to dominate others. Onni behaves simply so self-confidently, fairly and in a friendly way at the same time that he has hardly ever needed to proof her position as a boss to anyone.

Onni is now retired from shows but his incredible show career will allways be in our memories and maybe also many of those who saw him giving his very best in the shows. The results certainly speaks for themselves so I hardly need repeat the whole career, do I? =D . One secret of Onni's top success was his personal charisma in the show ring which couldn't simply be left without attention when Onni really found the right feeling. Music, aplodes of the public and hard competition made him even more sure of his excellency and encouraged him to performances which I have hardly seen being done by any other springer. Neverlethess, Onni took the priviledge to decide when it was time to get best out of himself, so it didn't go without saying that he always found the exactly right feeling for a great show performance but I think this was part of his artist like personality.

Onni is a very experienced traveller and has very flexible and easy-going approach to all kinds of situations. He has allways had such a positive attitude to life. This was seen also when Onni travelled to Australia for a year and made the spectacular comeback being BIS in Oulu International just two days after his arriving.

Onni is highly adored by Tarja and these two spend time together allways when it is possible, sharing everything from breakfast and car trips to pillow. Onni's favourite toys are cuddle toys , which were earlier given to him after every group win and nowadays Onni has a great collection of them in his sleeping place. One of them is picked up by him after waking up every morning. Also in the evenings Onni has got some unique rituals like "diving" loudly in the sofa. Outdoors one of Onni's biggest favourites are snow baths and Onni has also very passionate attitude to running in the field due to his extremely strong working abilities.

Onni has got progeny all over the world, for example in Australia, Checz Republic, Slovakia, Sweden and Russia, even in USA. At least 26 of his offspring are champions and many of them have achieved BOB, BIG and BIS wins. It seems that many have also inherited Onni's working abilities and personally I have a very positive overall picture of characters of Onni's progeny, according to the dogs I have met or heard from."

Rest in peace my dear friend, you were such a brave, big hearted superman and so faithful, loyal friend up to the very end of your life, living up to your both names all life through. Even when your legs did not anymore want to bear you on your last day, you wanted to follow my foot steps like a shadow of mine, like you've done allways before.
There was unfortunately not any chance to beat the unexpected, so aggressive enemy: incurable illness that arrived too early and suddenly.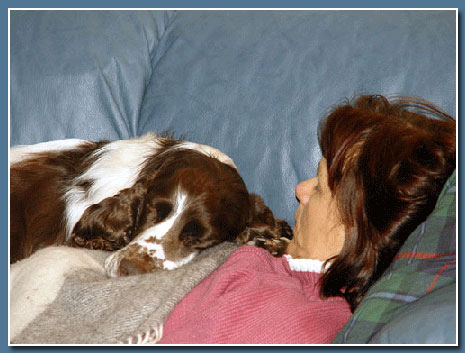 Onni liked to sleep on me on the couch..and I liked to had him close to me.
Last christmas time with him was a lovely time, pic taken 23.12.04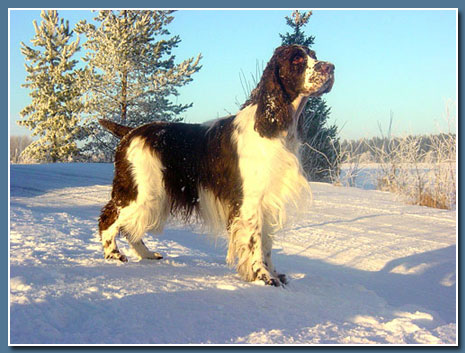 You will live for ever in our memories and hearts.
Such an unforgettable time we all really had with you;
it was a lovely adventure beyond compare.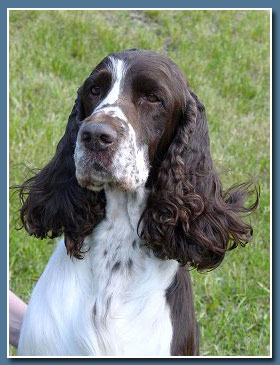 photo Sanna Kavèn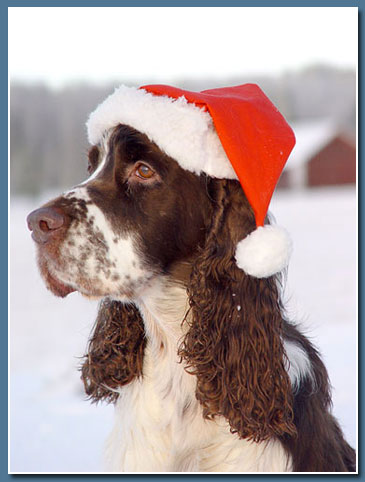 Onni's last christmas 2004.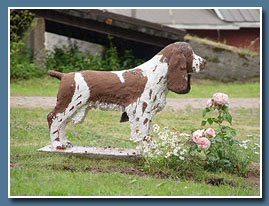 Onni is buried in a coffin that our son Lauri made for him,
on our farm's yard under his statue made by our neighbour.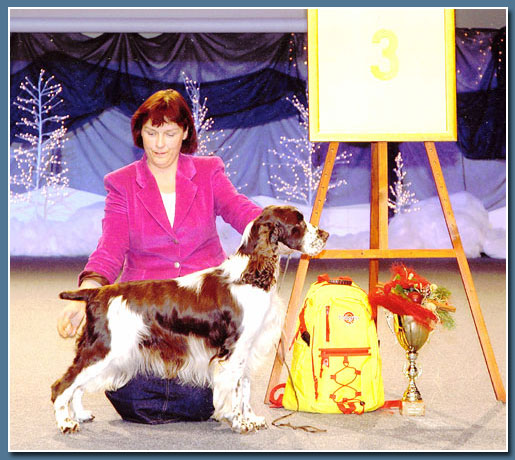 photo: ShowringNews
Onni pictured last December in Helsinki Winner-04,
when he received one more Top Dog award: 3. Top veteran All Breeds
In the beginning of his show career he gained 3. Top Dog All breed award at only 2 years age..twice he was Runner Up Top Dog All Breeds..he was such a bright shining star all his life through and above all he was a joy of my life, once in a lifetime dog and gave us so much happiness in daily life. He will be never forgotten and we still miss him so very much. Dear memories come in to mind many times as seeing things around that remind us of the time when he still was with us.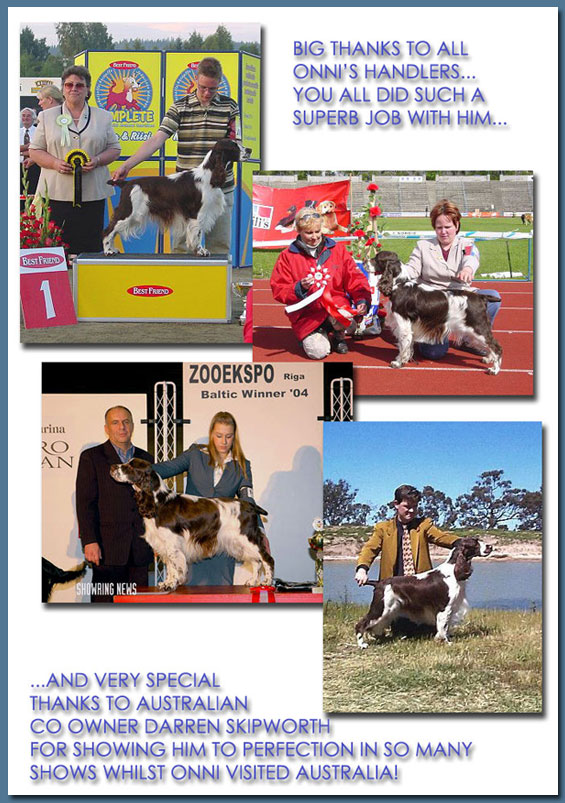 photos Sanna Kavèn, ShowringNews, Darren Skipworth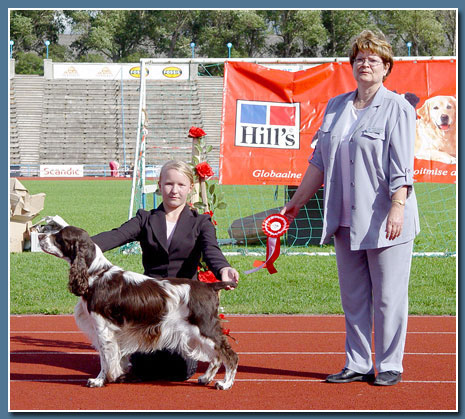 Onni was a popular junior handler dog.
He was allways so happy and ready to go and run with anyone who took him
and tried if he will run..and he did want! I remember once Onni's Junior handler
was placed as 3. at '90's,,, after coming back from Australia I think Onni and handlers were standing at 1. place every time he was shown in Junior handler competition.
Pic taken in Tallinn International, where Janika Kuusjärvi
won the Junior handler competition with Onni

photo: Veera Hovila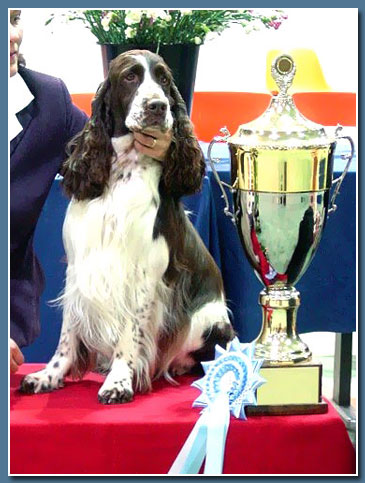 photo: Sanna Kavèn
Our friend's Sanna Kavén's article about Onni publish in 'Spanielworld' August 2005
Thank you Sanna!

Owners: Tarja Hovila, Darren Skipworth & Tiina Mattila
Breeder: Tarja Hovila (Finland)

MultiCh Adamant's Superman "Onni" was one of the most famous and successful English Springer spaniels of the time. Onni had many fans around the world, who most certainly will have this legendary dog in their memories forever. Onni was a Personality with big 'P', who took the rings and turned eyes to himself due to his personal charisma.

In Finland Onni is most successful English Springer spaniel ever in show rings. Onni's achievements during his lifetime were for example 125 times Best of Breed, 74 times Best in Group, 15 times Best in Show, 18 times Reserve Best in Show and 7 times Best in Show Veteran. He was also "Spaniel Of The Year" in Finland in 1999, 2000, 2002 and 2003. In all breed competition of "Dog of The Year" Onni was many times placed among 10 best dogs: second in 1999 and 2002, third in 1997, fifth in 2000 and eight in 1998. In "Veteran of The Year" -competition (all breeds) Onni placed third in 2004. In "Show English Springer Spaniel of the Year" competition he was unbeaten 8 years in row (from 1996 to 2003).

Onni has got progeny around the world and already 25 of them are champions. His offspring include also other CC-winners, but also BOB, BIG and BIS -winners. Onni's progeny group was awarded 5 times Best in Show from which one was in Spaniel Club Annual Show in Hyvinkää 1999.

Onni loved shows and it looked like he could feel, when the competition was more important and the show more prestigious, and then he seemed to 'wake up' putting really something extra to his own performance. And the more people gave aplodes the more Onni gave to his audience. Onni's imposing entrance to big ring with gorgeous carriage and unbelievable covering movement was definitely the thing, which all his admirers still may see in their minds even if the King himself is gone.

The most important person in Onni's life was Tarja and you could see them almost always in same place. This couple did lots of things together and it was breathtaking to see their co-operation in show rings. No one else got all the charisma out of Onni like Tarja did, even if Onni was always showing himself nicely also with other handlers.

Onni brought lots of joy to whole family in Mustjoki farm with his acting and doing. Onni was everyone's friend, showing his friendship and happiness to all dogs and people.

Now Onni is in deep sleep after the sudden and unexpected sickening took his strengths. In July 2005 Onni was put to rest in place of honour in Mustjoki farm under his own statue and from there he remind all visitors from himself. Rest in peace Onni. And strengths to all people missing him.

In August 2005
Sanna Kavén

"We friends miss him so much. Thanks to Onni's owners and family for letting me to handle him in show rings and to take him with to show trips. Moments together with Onni are deep in my loving memories, Sanna"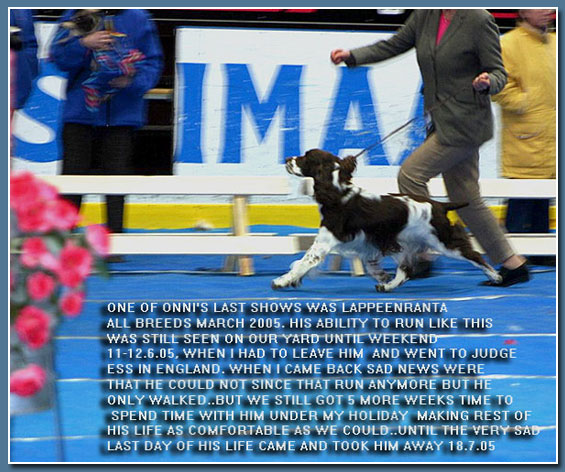 Some of kind condolences, that we got via guest book. Thank you everyone who sent comforting messages, they were so appreciated and we did notice we are not alone in our sorrow of loosing dear Onni, who had many friends around the world.


************************************
Name : Maree Redmond, Barongarook Homepage : Merriyank American Cocker Spaniels Message :
A Great Show Dog Never Dies........ He's there..... he lives on..... waiting behind the memory curtain of my mind through which only I can see.... He stands there, tail wagging, eyes agleam.... so visible to me, seen only by me... always waiting eagerly to be called to my side, as he knows I will do, to live again the proud moments. He comes obediently when I summon, and I can slip his show lead on him at any time. Whenever I wish, the two of us can once more gait off on silent footsteps to a Best of Breed, a Group 1st or a Best in Show. It matters not that no-one else sees our performance, nor hears the thunderous applause as we move. It is our thrill to share alone.... over and over.... forever and ever..... (Mari Doty).

Tarja, words can never ease the pain - I know I have felt many times, and I feel with you now and for you. Onni was a very special dog and it was an honour to have him live with me during his time in Australia. Take pride in his outstanding achievements, love and hold on to every precious memory, and be most grateful for the fantastic adventure called Superman.

Veni Vidi Vici Rest easy dear Onni. Enjoy those snow baths and steal as much food as you can find in heaven.......... Fondly remembered by Maree & Lakeisha.

Tuesday, July 26, 2005 3:07:31 PM


************************************


Name : Anne Sivonen Homepage : wss Aku Message :
Lämmin osanotto koko perheelle Onnin matkattua sateenkaarisillalle.
" Et ole poissa, muutit sydämeeni asumaan. " - Anne ja Aku -
Monday, July 25, 2005 10:53:24 PM


************************************


Name : perhe Kangaslampi Message :
Osanottomme Onnin poismenon vuoksi.

Monday, July 25, 2005 12:08:37 PM


************************************


Name : Ari Harmanen, Laura Krook ja Topikoira (ESS), Sammatti City Message :
Lämmin osanottomme superkoira Onnin yllättävän poismenon johdosta. Kennel Adamants ystävineen menetti näin loistavan tähtensä; uskomme kuitenkin, että Onnin säteilevä sieluolemus matkaa nyt kohti omaa ikuista Tähteään rajattomassa maailmankaikkeudessa, ajan ja materian tuolla puolen. -Onnilla oli poikkeuksellisen värikäs, kokemuksista rikas ja menestyksellinen elämä täällä maan päällä. Syntyi elävä legenda!
Sunday, July 24, 2005 10:49:10 PM


************************************



Name : Jaana ja walesit Homepage : http://kotisivu.mtv3.fi/didilcomshen Message :
Osanottomme Suureen Suruunne Onnin poismenon johdosta! -jaana-
Sunday, July 24, 2005 10:38:14 PM


************************************



Name : Alice Rendall, Cincinnati, OH USA Homepage : Renaissance English Springers Message :
"When someone we love becomes a memory, that memory becomes a treasure" Onni was a true treasure and will always remain so in my heart. May his gentle spirit live on in his sons and daughters. I feel so very fortunate to have had the chance to meet Onni in person last year while in Sweden and I'm even more grateful to have the legacy of our Onni Kids living here in the USA and Canada. I'll be forever grateful to you Tarja for giving us this opportunity. We will treasure them even more now. Sincerely, Alice Sunday,
July 24, 2005 1:03:54 AM


************************************



Name : Karoliina & Fuzzyball's Message :
Osanottomme Onnin poismenon johdosta.
Saturday, July 23, 2005 10:15:07 AM


************************************
Name : Jonna and Luckystone`s walesit Message :
Taivahalle on syttynyt juuri tähti kirkas, tähti suuri. Siellä voimme nähdä Onnin. Kerrassaan suuremmoisen koiran muistoksi! Osanottoni suureen suruunne, Jonna
Friday, July 22, 2005 9:02:26 PM


************************************



Name : Riin Remma, Tallinn Message :
Tarja! Syvimmät osanottoni teille, Onni oli kaunein Springeri mitä ikinä olin nähnyt!
Riin Friday, July 22, 2005 5:16:36 PM


************************************

Name : Kasia Czapla, Poznan/ Poland Homepage : DIERVILLA Irish Setters Message :
I am very sorry about Onni, he was the most georgeous ESS I have ever seen, though I am not so into ESS, my breed is Irish Setter, but if I ever decide for another breed - that will be ESS from your line, hope one of Onni's grand-grandchildren. He was a special dog that will stay in my memory forever.
Friday, July 22, 2005 4:25:06 PM


************************************


Name : Charlotte Hansen, Denmark Homepage : http://www.trulyyours.org Message :
Hello, Sorry to hear that "Superman" is not here anymore but passed over the "rainbow-bridge". I know he was very special for you. All the best from Denmark. Kindly Charlotte Hansen
Friday, July 22, 2005 1:47:14 AM


************************************
Name : Susanna Pohjola, Janakkala Homepage : Walnut ess Message :
Otamme syvästi osaa Onnin poismenon johdosta. Every time I look around, when I'm lost or when I'm found, like an angel standing guard, ther you are. Every time I take a breath or when I forget to reathe, you are watching over me, there you are. When I'm looking for the light in the middle of the night, searching for the brightest star, there you are. - Author Unknown - T: Suski ja koko koirapoppoo

Wednesday, July 20, 2005 3:06:53 PM


************************************
Name : Virpi & Petri Lakso Message :
Osanottomme suuressa surussanne, ja Onnia muistaen, Wesperin poppoo
Wednesday, July 20, 2005 12:28:14 PM


************************************
Name : Hanna Hyypiä, Helsinki Message :
Tarja, osanottoni suuressa surussanne Onnin poismenon johdosta. Hanna
Wednesday, July 20, 2005 10:22:47 AM


************************************
Name : Kirsi ja Kara, Oulu Homepage : Karan sivut Message :
They say memories are golden well maybe that is true. I never wanted memories, I only wanted You. A million times I needed You, a million times I cried. If love alone could have saved You You never would have died. In life I loved You dearly, in death I love You still. In my heart You hold a place no one could ever fill. If tears could build a stairway and heartache make a lane, I'd walk the path to heaven and bring You back again. Family chain is broken, and nothing seems the same. But as God calls us one by one, the chain will link again. Lämmin osanottomme suureen suruunne.
Wednesday, July 20, 2005 9:51:03 AM


************************************
Name : Marjut Message :
If the sky should fall into the sea And the stars fade all around me For the times that we have known I will sing a hymn to love We have lived and dreamed, we two alone In a world that seemed our very own With it's memory ever grateful Just for you, I'll sing my hymn to love I remember each embrace The smile that lights your face And my heart begins to sing Your arms and hands secure Your eyes that said, "Be sure" And my heart begins to sing If one day we had to say goodbye And our love would fade away and die In my heart you will remain I will sing a hymn to love Those who love will live eternally In the blue, where all is harmony With my voice raised high to heaven Just for you, I'll sing a hymn to love Just for you, I sing a hymn to love Lohdutukseksi...
Wednesday, July 20, 2005 9:26:37 AM


************************************
Name : Anssi, Petra, Sakke ja Eemeli, Parola Message :
"Nyt olen vapaa ja mukana tuulen voin kulkea rajalla ajattomuuden. Olen kimallus tähden, olen pilven lento olen kasteisen aamun pisara hento. En ole poissa vaan luoksenne saavun mukana jokaisen nousevan aamun. Ja jokaisen tummuvan illan myötä toivotan teille hyvää yötä." (Eino Leino) Lämmin osanottomme Legendaarisen Onnin poisnukkumisen johdosta. Anssi, Petra, Sakke ja Eemeli
Tuesday, July 19, 2005 10:21:07 PM


************************************
Name : Susanna Tillman Message :
Tarja med familj!! Det var så sorgligt att läsa att vackre Onni gått bort!!!!! Jag blev så ledsen och det var med tårar i ögonen jag läste vidare!!! Han var verkligen en riktig superstjärna!!!! Jag är så glad att jag fick tillfälle att njuta av hans elegans och skönhet när jag såg honom i utställningsringen i Stockholm för några år sedan!!! Vi blev helt betagna av honom och jag har beundrat honom så och följt alla hans framgångar genom åren. Njutit av alla vackra foton på er hemsida både från utställningar och vardagslivet med honom!!! Jag känner med er och förstår att han lämnat ett enormt tomrum efter sig!!! I minnet kommer han alltid leva kvar som den Superman han var!!!!! Hälsningar Susanna
Tuesday, July 19, 2005 9:46:54 PM


************************************
Name : Tuija Virtanen, Leppäkorpi (Nummi-Pusula) Homepage : Twist And welsh springer spaniel & pomeranian Message :
Nyt olen vapaa ja mukana tuulen saan kulkea rajoilla ajattomuuden. Olen kimallus tähden, olen pilven lento, kasteisen aamun pisara hento. En ole poissa vaan luoksenne saavun mukana jokaisen nousevan aamun. Ja jokaisen tummuvan illan myötä toivotan teille hyvää yötä. - Eino Leino - Lämmin osanottomme suuressa surussanne. Tuija
Tuesday, July 19, 2005 9:03:48 PM


************************************
Name : Jaana Homepage : baskethills ess Message :
Osanottomme suuren legendan kuoleman johdosta, mutta legenda Onni elää teoissa ja muistoissa. tv Jaana ja Tmo & tytöt *nähdään papprazzi tv Kaisla ja Klaara
Tuesday, July 19, 2005 7:18:54 PM


************************************
Name : Jaana Homepage : baskethills ess Message :
Osanottomme suuren legendan kuoleman johdosta, mutta legenda Onni elää teoissa ja muistoissa. tv Jaana ja Tmo & tytöt *nähdään papprazzi tv Kaisla ja Klaara Tuesday, July 19, 2005 7:13:11 PM


************************************
Name : Lotte & Michael, Dianalund Homepage : Kennel Galaksi & Cockergold Message :
Dear Tarja What a great loss for this springer world, he will never ever be forgotten. We are happy that we can bring him on with our sweet Nobhill Taste Of Successe Our thoughts are with you.... Sincerly Lotte & Michael
Tuesday, July 19, 2005 5:44:34 PM


************************************
Name : Heli Homepage : Waterstar´s Message :
Lämmin osanottomme Onnin poismenon johdosta. Onni pysyy aina sydämmissämme. Upeat yhteiset muistonne auttavat jaksamaan suuressa surussanne. t. Heli ja Albert
Tuesday, July 19, 2005 4:20:05 PM


************************************
Name : Monica Dreijer Message :
Tarja and family, My my heart and thoughts are with you - in the sad times as of your loss of dear Onni. Ch Adamant's Superman is one of the greatest springers in our time, and he will leave a big gap in the springer spaniel world he will live on in our memories forever. At Nobhill springers we thank him for a wonderful litter that gave us our beloved Mirja, Ch N Success Story, she will carry on the memory of Onni in our house . Take care - and here is a big hug from us, Monica Tyty, Mirja, Nelle, Jazz and Allie Tuesday, July 19, 2005 2:51:24 PM


************************************
Name : Roxanne, Texas, USA Homepage : http://hometown.aol.com/daystarspringers/ Message :
words by Eric Clapton (inspired by his own private loss) Would you know my name If I saw you in heaven? Would you feel the same If I saw you in heaven? I must be strong and carry on 'cause I know I don't belong here in heaven... Would you hold my hand If I saw you in heaven? Would you help me stand If I saw you in heaven? I'll find my way through night and day 'cause I know I just can't stay here in heaven... Time can bring you down, time can bend your knees Time can break your heart, have you begging please...begging please Beyond the door there's peace I'm sure And I know there'll be no more tears in heaven... xxoo R.
Tuesday, July 19, 2005 11:46:45 AM


************************************
Name : Tiina Huppunen, Merimasku Homepage : www.riistankulma.com Message :
Osaanottomme suureen suruunne. Onnin muistot jää ja jälkeläisissä Hän elää....ei ole sanoja jotka lohduttaa,vain aika auttaa. Tiina ja muut riistankulmalta
Tuesday, July 19, 2005 10:19:21 AM
************************************
Name : Teri Nelson, Troutville, Virginia USA Homepage : www.wildenspringers.com Message :
Tarja, I am so sorry to hear of Onni's passing. I can only imagine the grief you are feeling. Please know we are thinking of you and sending you warm thoughts and prayers. Here's a quote from Suzanne Clothier's book "If A Dog's Prayers Were Answered...Bones Would Rain From The Sky": "There is a cycle of love and death that shapes the lives of those who choose to travel in the company of animals. It is a cycle unlike any other. To those who have never lived through its turnings or walked its rocky path, our willingness to give our hearts with full knowledge that they will be broken seems incomprehensible. Only we know how small a price we pay for what we receive; our grief, no matter how powerful it may be, is an unsufficient measure of the joy we have been given." You two shared great joy; Onni's spirit will live on in your heart, in your life, and in your dogs. Best regards, Teri Nelson in Virginia (USA)
Tuesday, July 19, 2005 6:11:16 AM
************************************
Name : Heini & kultaiset, Kajaani Homepage : Veetin & Wilsonin kotisivut Message :
Taas valo viiltää taivaanrantaa, se päivän yöstä erottaa. On tullut aika pois se antaa, jota niin paljon rakastaa. Sen järjellä me ymmärrämme, toinen lähtee, toinen jää, vain pieni lapsi sisällämme ei tahdo sitä käsittää. Hyvää matkaa, hyvää matkaa, kulje kanssa enkelin. Hyvää matkaa, hyvää matkaa, sinua paljon rakastin. Onni oli Upea koira, hänen muistonsa tulee jäämään ikuisesti sydämiimme. Jaksamista suureen suruunne.
Tuesday, July 19, 2005 1:28:12 AM


************************************
Name : Lang Theres Homepage : www.levana.ch Message :
Hallo Tarja, es tut mir sehr leid, dass Ihr wunderbarer Onni, 5 Tage nach Silkky, auch über die Regenbogenbrücke gehen musste. Die beiden Halbgeschwister mussten uns viel zu früh verlassen. Sie werden in unseren Herzen weiter leben. Traurige Grüsse
Tuesday, July 19, 2005 12:07:17 AM
************************************
Name : Oona Salo & Nuppu Message :
Edes Legendat eivät elä ikuisesti, jokaisen tähden on sammuttava. Suuret osanotot Onnin poismenon johdosta Nupulta ja Nuppusen koko perheeltä. En löydä sanoja. Voimia suureen suruunne, Oona
Monday, July 18, 2005 11:09:27 PM


************************************
Name : Sanna Kavén ja muu Wildomar's väki, Somero Homepage : Wildomar's Message :
HÄN on poissa. Ei ole sanoja, ei tekoja lohduttamaan. Sydämessä tuntuu vain kaipuu. Onnelliset yhteiset hetket piirtävät kauniita viivojaan mieliin. Lämpimät muistot kyyneleet kuivattakoon. Suuri osanottomme Onnin poismenosta koko perheelle.

Monday, July 18, 2005 9:50:09 PM


************************************
Name : AnneL Message :
Älä seiso haudalla itkien en ole siellä nuku en, jatkan elämääni tuhannessa tuulessa, olen timantin hohde lumessa, olen aurinko joka kuultaa viljaa, syyssade joka putoaa hiljaa, kun heräät aamun hiljaisuuteen olen ylitsesi maahan uuteen matkaavien muuttolintujen lento, olen öisten tähtien loiste hento, älä seiso haudalla itkien en ole siellä kuollut en. Osanotto Onnin poismenon johdosta.
Anne Monday, July 18, 2005 8:36:52 PM
************************************
Name : Suvi Lindholm, Kotka Homepage : Ocean Pitfal's Message :
Osanotto myös meiltä teille Onnin pois nukkumisen johdosta! -Suvi-
Monday, July 18, 2005 7:36:09 PM


************************************
Name : mia, åland Homepage : kennel bogaloo's Message :
There is no words... Just fathomlessed emptiness left when a lifetime friend leaves.
Monday, July 18, 2005 6:17:25 PM


************************************
Name : Heidi Raita, Kotka Homepage : Wishingspring`s Message :
Osaanotto suureen suruunne Onnin poismenon johdosta.
Heidi Monday, July 18, 2005 6:05:32 PM


************************************
Name : Virpi, Pori Homepage : Hurri, Hirmu & Hupi Message :
Osanotto Onnin poismenon johdosta. Virpi

Monday, July 18, 2005 5:09:13 PM
************************************
Name : Taina ja muu perhe, Pori Homepage : Kalevan perhe Message :
May I go ? May I go now ? Do you think the time is right ? May I say goodbye to pain filled days and endless lonely nights ? I´ve lived my life and done my best, an example tried to be. So can I take that step beyond and set my spirit free ? I did´t want to go at first, fought with all my might. But something seems to draw me now, to warm and living light. I want to go. I really do. It´s difficult to stay. But I will try as best I can, to live just one more day. To give you time to care for me, and share your love and fears. I know you´re sad and afraid, because I see your tears. I wont be far, I promise that. And I hope you´ll always know, that my spirit will be close to you, wherever you may go. Thank you for loving me, you know I love you too. That´s why it´s hard to say goodbye and end this life with you. So hold me now just one more time and let me hear you say, because you care so much for me, you´ll let me go today. -Susan A. Jackson- Tähti on sammunut maan päällä, mutta loistaa sitäkin kirkkaampana taivaalla. Hyvää matkaa isä-papalle, rakkaudella Smoogey Lämmin osanotto ja jaksamista eteenpäin koko teidän perheelle, toivoo Taina ja Teemu perheineen
Monday, July 18, 2005 2:25:46 PM


************************************
Name : Aurélie, France Message :
Hello again Tarja , I am very sad to learn this new about your dear ONNI... He is always with us, in our memories and through his children. An exceptional dog ... Big hugs from France Tarja , I think of you regards,
Monday, July 18, 2005 1:45:02 PM


************************************
Name : Maarit & co Homepage : Kennel Speck Line Message :
Osanottomme koko perheelle unohtumattoman supermiehen poismenon vuoksi.. Hyvää matkaa sateenkaarisillalle, Onni!
Monday, July 18, 2005 1:38:46 PM


************************************
Name : Kukka-Maaria Virkkunen, Viinijärvi Homepage : kennel Hayzehill´s Message :
Osanottomme onnin poismenon vuoksi.
T;Kukkis ja karvakorvat Monday, July 18, 2005 1:20:40 PM


************************************
Name : Krista Homepage : Ada Message :
Täytyy sanoa, että on vaikea pidätellä kyyneliä, kun tänä aamuna tuli jälleen kerran sivujasi katsomaan. On vaikea pelkästään kirjoittaa, edes yksi osanotto Onnille ei riitä, oli se niin erikoinen koira :) Itse muistan vieläkin, ennen kuin olin edes ekaa kertaa koulutuksissa käynyt, että ihailin Onnin kuvia lehdistä silmät kiiluen ja sen kun näin sen ekan kerran livenä.. ei moni koira sellaista tunnetta, vaikutelmaa ja tyyliä saa aikaiseksi, mutta Onni olikin Onni.. ainoata laatuaan... suuren suuret osanotot, paljon voimia <3 terv. Krista ja Ada
Monday, July 18, 2005 1:13:46 PM
************************************
Name : Hannele, Nurmijärvi Message :
Osanottomme Onnin poismenosta. Onni oli nimensä veroinen, oikea Superman. Suuresti Onnia kaivaten Hannele ja Jukka sekä pikku-Arvo Monday,
July 18, 2005 1:04:16 PM


************************************
Name : Marjo Jaakkola Homepage : Benton Welsh Springers Message :
Weep not for me though I am gone Into that gentle night. Grieve if you will, but not for long Upon my soul's sweet flight. I am at peace, my soul's at rest, There is no need for tears. For with your love I was so blessed For all those many years. There is no pain, I suffer not, The fear now all is gone. Put now these things out of your thoughts, In your memory I live on. Remember not my fight for breath, Remember not the strife. Please do not dwell upon my death, But celebrate my life. - Constance Jenkins- Thinking of you Marjo & all at ´Benton´
Monday, July 18, 2005 12:17:49 PM
************************************