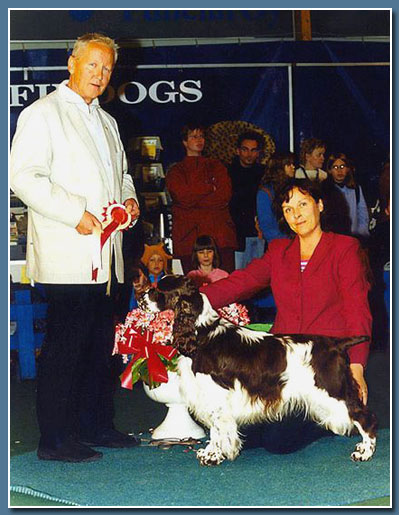 photo: TEXterri
Only a "superman" can do a miracle like Onni did..Veni-Vidi-Vici..after hard long trip from Australia, by plane sitting 48 hours in darkness, he conqured two days after arrival one of Finland's biggest International Shows..Oulu International..certainly everyone felt HE IS BACK!!! He did not 'only' win prestigious Best in Show in front of Finland's Top Dogs´noses, but won also BIS progeny and was the real trump card of Adamant's Breeder's class..so the result was 3 x BIS in this show, can anyone imganine more?

We are happy that so many judges from so many countries have thought so higly about our "Onni"!!!


Judges who have given Adamant's Superman Best of Breed, Best of Group or Best in Show:

Rainer Vuorinen, Fin,
Kari Järvinen, Fin,
Hans Lehtinen, Fin
Annaliisa Heikkinen, Fin,
Carlos Saevich, Arg
Ritva Raita Fin
Annika Ulltveit-Moe Sweden,
Henric Fryckstrand Sweden
Svend Lovenkjaer Denmark
Don Miller, UK,
Yvonne Billows, UK,
Terry Thorn, UK
Nicola Calvert, UK
Hilda Parkinson, UK,
Pamela Cross-Stern, Uk (BIS-5 Stockh. W-01)
Brenda Banbury UK,
Dolores Dinneen Ireland
Barbara Muller, Schwitzerland
Tamas Jakkel, Hungary
Laszlo Erdös, Hungary
Laurent Pichard, Schw.
Norman Huidobro-Corbett, Spain
Ernesto Capra, Italy
Marie Louise Doppelreiter, Austria
Hassi Assenmacher-Feyel, Germany
Kresten Scheel, DK
Jerzy Olszewski, Pol
Leslie Chalmers, Nz
Johan Juslin, Fin
Carla Molinari, Portugal
Agnes Ganami-Kertes, Israel
Lotte Jorgensen, DK
Per Iversen, Nor
Leif Herman Willberg, Nor
K-S Willberg, UK
Eeva Rautala, Fin
Jouko Leiviskä, Fin
August deWilde, Belgium
Kirsti Bremer Fin
Leila Kärkäs, Fin
Paavo Mattila, Fin
Arne Thorn, Swe
Paul Scanlon, Ireland
Ann Ingram, Ireland
Tiina Illukka, Fin
Hannele Jokisilta , Fin
Eeva Anttinen, Fin
Gitta Ringwall, Fin
Jukka Kuusisto, Fin
Kirsi Nieminen, Fin
Jorma Silta, Fin
Kirsti Louhi, Fin
Mary Crowley, Ireland
August de Wilde, Belgium
Rita Kadine Slatke, Lithuania
Flora McKenzie, Can
Hans Rosenberg, Swe
Kim Bay, Dk,
Elina Tan Hietalahti, Fin
Elsbeth Clerc, Schw
Paula Heikkinen-Lehkonen, Fin
Harri Lehkonen, Fin
Rune Fagerström, Fin
Orvo Kulo, Fin
Eero Santala, Fin
Alex Krasilnikov, Dk
Eva Mjelde, Nor
Bertil Lundgren, Sweden
Markku Santamäki, Fin
Birgitta Runmarker, Sweden
Cecilia Holmstedt, Sweden
Dominic Harris Ireland
Helge Larsen, DK
Svein Helgesen, Nor
Birgitta Runmarker, Swe
+ about 20 more judges whilst he was shown in Australia.