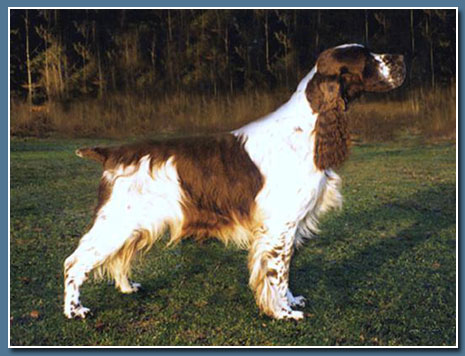 photo: Tarja Hovila
Onnis charming father Multi Champion and Multi winner Whisborne Devil in Disguise 'Carsten' visited us 1997-1998 and we took this pic as a memory of his beautyfulness! He charmed us with his personality and we can see that he has passed so many of his special habits to his son Onni..as for excample couch baths, snow baths etc.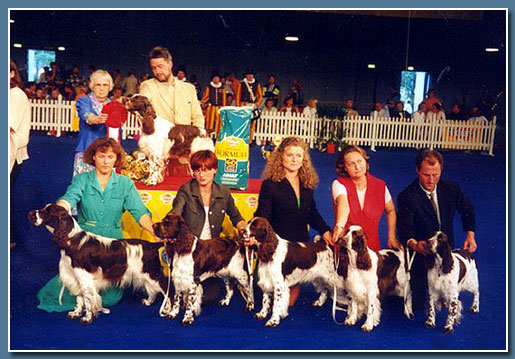 Multi Champion Whisborne Devil in Disguise winning BIS progeny
in European Winner show 1997 in Copenhagen. Onni is on the left.
Carsten was himself a stunning show dog winning so many Best in Shows and Winner titles. He was also a great stud dog having sired more than 40 champions, of which we ourselves have bred 9 under Adamant's prefix. Carsten was owned and bred by Annika & Harald Ulltveit-Moe (Whisborne) and Jessie Borregaard Madsen & Kaj Madsen (Sieger's).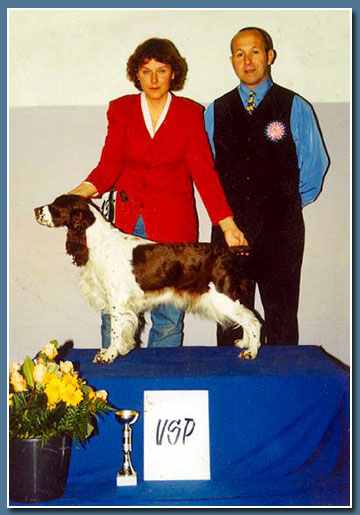 Adamant's Rose d'Amore winning BOS in Spaniel Main Club Show 1998
under Mr Ray Smith, Melverly kennel, UK
photo: TEXTerri/Paula Heikkinen-Lehkonen
Onni's mother 'Rosie' Int & Fin & Est Ch. Est W-00 Adamant's Rose d'Amore has been a lovely brood bitch. She has been a perfect mother to all her puppies and has loved and played with them endless as far as they have left our home. Her puppies have got from her mother the endless will to play with toys, balls etc. Rosie has allways been a funny clown in our family.
Rosie is dam of such winners as:
C.I.B NORD & FI & SE(Sh) & DK & AU & EE & LV & LT CH
WW-98 NORD-99 FIW-98-01-02 BALTW-03-04 LTW-05 Adamant's Superman
NO CH NORDW-98 NOW-03 Adamant's Brilliant Chance
JWW-98 Adamant's Diana Look ( 4 X CC)
FIW-02 FIJW-02 BALTW-03 Adamant's Dreams Are Free
C.I.B NORD CH Adamant's Bestseller
SE TCh Adamant's Brand New Luck
FIW-99, FIJW-99 Adamant's Pretty Woman
FIW-97 Adamant's Shakespeare
Adamant's Striking Chance ( 4 x CC)
Adamant's Special Colours (4 x CC)
Adamant's Breeder's Dream (3 x CC)
Adamant's Dancing Queen (3 x CC)
Adamant's Sense of Beauty (2 x CC)
Adamant's Ace of Inu-goya (2 x CC)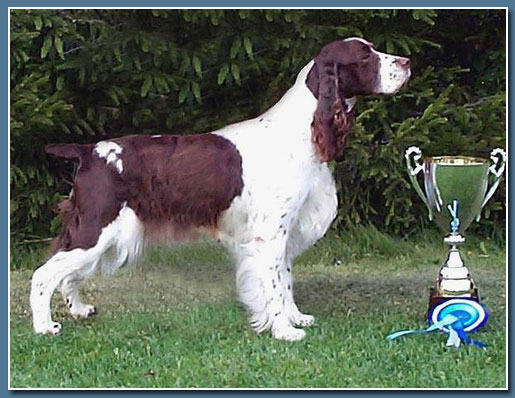 photo: Tarja Hovila