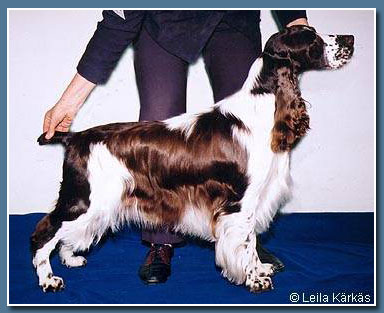 Runner Up All Breed TOP DOG 2002
English Springer Spaniel Adamant's Superman
Adamant's Superman has been living up to his name through all his seven years! He has reached most impressive line of Top Dog Placements since he was a youngster and surprisingly ended without any efforts to 3. best All Breed Top Dog 1997.
Next year went nicely too , and he finished the year as being 8. best Top Dog All Breeds, though he was in such age when young males just needs time to mature to complete the picture.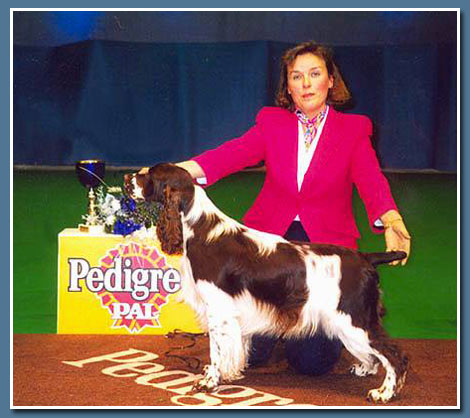 Adamant's Superman was 3. best dog in Finland of
All Breeds already at 2 years age 1997!


Year 1999 we did first time concentrate in trying to reach the very best top and in the end of the year the magnificient final result was that Onni went to honourable RUNNER UP TOP DOG 1999 placement, beaten only by 2 tiny little points!

Next year 2000 we decided to forget all about point counting, but just to enjoy showing him as he was finally in full bloom with everything he has got. In the beginning of the year we knew he will fly to Australia for a year. So we enjoyed of the first part of the year with him in Finnish show rings and it all AGAIN went even much better than expected, as he was at the time when he left the country suddenly so very strong number 1. leader of all breed Top Dogs! We did not even consider though to change plans which were done and so he left the country just two months before point counting was ending. Probably it had been quite an easy win for him in the end but never mind, point countings are just mathematics and nothing to compare to unforgettable moments in show ring itself.

He arrived back Finland 11.10.01 and then he made just two days later the legendary and most spectacular comeback in Finnish show ring as winning the great Oulu International all breed show where all the other Finnish Top Dogs were trying to catch the final points of that show year! He really was "the King" of that Show, as he 'took it all': Best in Show, progeny BIS and was proudly leading our breeder group to BIS!!!He was in his most superb show mood and could have been running around the ring until next morning!
Just to get him back after a year and enjoy such magic performance of him when he really made his presence felt was one of those most unforgettable moments with him in shows through years.

Next period of Top Dog year begun also just splendid: in Jyväskylä about 4000 entry international show he went to Runner Up BIS, being the Best Finnish dog in that show as the BIS was a Rottweiler from Russia. It was actually not meaning to 'participate' in Top Dog competition anymore with an aging dog but things in show ring just went like he continued his unbelievable success story as winning even more than before!!!
Suddenly we noticed he was anyhow every now and then the Current Leader of Top Dogs, though we did not run that much in distant shows as we did year 1999. And finally we put him to 5 week holiday too in the end part of summer time. Though he was still Number 1. Top Dogjust a little time before last show, we did knew he lost his chance to retain this position on the critical moment 16 days before last show, when I got a call to work from a friend and heard that the last show to count had finally after all found after yet more re-re-re checkings their entry not being the earlier confirmed one 2480 but 2517..which was making the hopes of show committee true to their satisfaction (pointing to their advance advertisements in public internet) as letting the honour with this entry for this show first time to be the last "important point show" one (over 2500 makes a show to important class with Top Dog point counting in Finland).

On that very day friends got a message 'Game Over for Onni'.. and I was not wrong in the end. I knew I had to leave for more important appointment far away abroad on the crucial weekend. Everything went about as expected then in the last show, though for Onni it did go a slightly better than I expected as he managed to get Group-4 placement. I was well updated via mobile phone all weekend through though I was in 2000 km distance. I also got the information that loudspeakers had all Sunday long talked how that show is the "crucial important one" as the Top Dog competition final is done there. It surely was sounding pretty exciting for the public, but to Onni's handler not so.

But it was a nice thing to get such a possibility to send him there though; in such situation you must of course try the best you can and see what will the last chance give, when miracles can some time happen though. But this all doesn't make any piece of shadow at all over Onni's unforgettable magnificient achievements through all these years. Probably not any other dog in Finland ever has been so many times so close to be Number 1, nor has been so highly placed in Top Dog through all lifespan. This all surely makes him to one of the legendary show dogs all time in our country's show history.

Much more important than points or any placements has been to be the lucky one (together with his co owners Tiina and Darren), who has got the opportunity to live with this exceptional once in life time dog. His most appealing personality and all experiences that we have went through together with him during his life time has made him such a dear beloved friend, who most probably will still follow me everywhere I go, even back to shows and so he will be shown first time as a veteran in one of his and my favourite shows: Jyväskylä International!

Most heartfelt thanks to all those friends who have been living with in all these exciting moments of the gone year and have encouraged us when needed and given all the great highly appreaciated help in all kind of things in this venture.

Big congratulations to all great and stunning Top Dog competition winners, Top Breeders and Top Veterans!!! It is a year to remember sure for everyone!


Onni's impressive show achievements shortlisted are so far:

124 x Best of Breed
74 x Best of Group
15 x Best in Show
17 Runner Up Best in Show
Spaniel of The Year in Finland 1999, 2000, 2002, 2003
3. in Top Dog All Breeds 1997
8. in Top Dog All Breeds 1998
Runner Up (2.) in Top Dog All Breeds 1999
5. in Top Dog All Breeds 2000
Runner Up Top Dog All Breeds 2002
3. in Top Dog Veteran All Breeds 2004
The Show Springer of The Year in Finland 1996-2003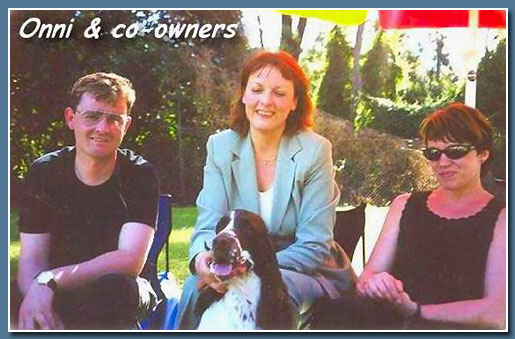 Onni has got a lot of fans and friends all over the world.
We will kindly thank everyone who have emphatized his unforgettable year!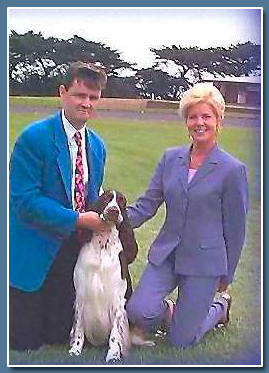 Onni with co owner Darren Skipworth
and Irish Glynn in Australia year 2001 after BIG win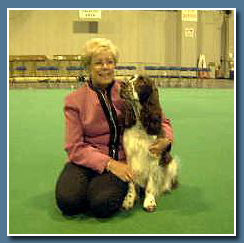 Onni with Bea Gunn in Crufts 2002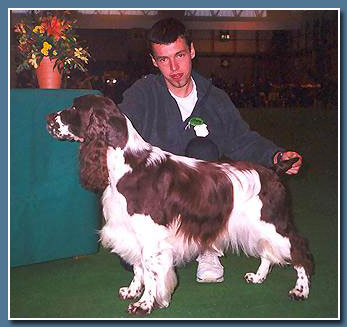 Onni with Yiannis Vlachos from Greece in Crufts 2002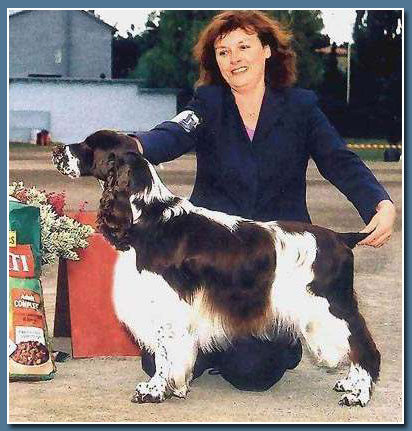 One of the most unforgettable highlights of the year was
when Onni won the great Porvoo all breeds BIS!
photo: Koirauutiset