SPANIEL BREEDING SINCE 1974 - ALREADY 40 YEARS!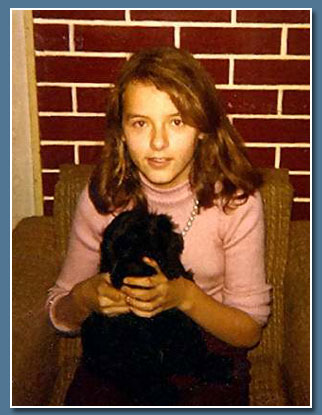 As a little girl I dreamed owning a dog and as a birthday present I got my first dog: cockerspaniel. She was not any beauty , but I took my first steps in dogworld with her anyway. I bred her twice, first litter was born 1974, but soon I noticed it is no worth of breeding without excellent foundation bitch. Soon I got a dream of gaining more as a breeder, a dream of being able to breed really top dogs and to become an ambitious and talented breeder making dogs with overall excellent qualities.

So I found my foundation bitch FIN CH Builderīs Azalea (FI CH Admiral of Skyway - FI CH Florence of Forestfire), who is still in pedigrees of every Adamantīs dog. Her grandfather was famous INT & FIN & NO CH W-72, -75, -76 Mompesson Fisherman. She won Best in Show in a minor show. I mated her for first time in Sweden with Huntersmoon, who was made of famous Cleavehill-dogs.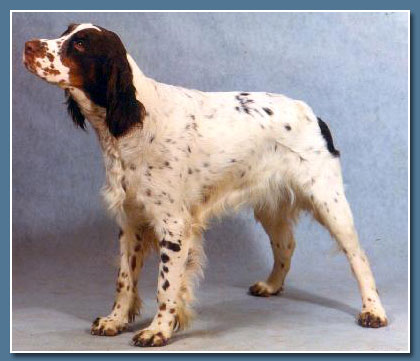 Foundation bitch FI CH Builderīs Azalea
14.9.1976 my first ESS litter was born with first Adamantīs made Best in Show-winner in all breed show in it: INT & FI CH Adamantīs Chocolate Dream. This gorgeously moving bitch I later on had to sell to Sweden because of my studies, but fortunately she found her place in kennel Rowntree, who got this wonderful bitch as a foundation bitch to their famous winning springer spaniels.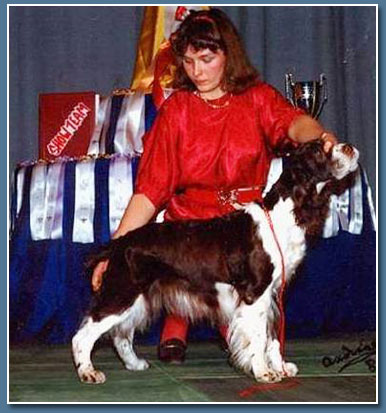 INT & FI CH Adamantīs Chocolate Dream
Stockholm Grand Hotel, 'Veteran of Veterans 1985' show

Anyway before Adamantīs Chocolate Dream went to Sweden, she had 13 puppies in my kennel, all sired by american bred Multi Champion Salilynīs Passkey. Five of those puppies got International Champion titles: Adamantīs Chance, Adamantīs Clarissa, Adamantīs Chocolate, Adamantīs Living Dream, Adamantīs Lovepotion. Finnish Champion title was awarded to Adamantīs One and Only Dream. Adamantīs Chocolate Dream had only one progeny class in Finland, it was shown in international Nordic Winner Show in Helsinki 1980 and it was Best of Breed under Robert M. James, GB and Best in Show under Rainer Vuorinen, FIN.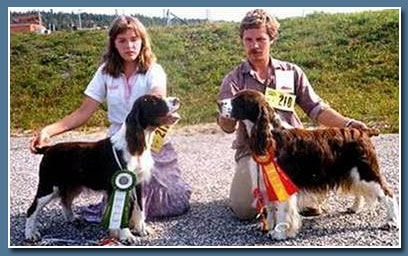 International champions
Adamant's Chocolate and Adamant's Chance
gained their titles in Sweden in same show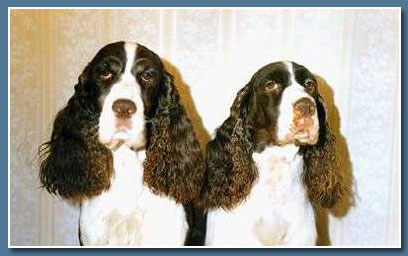 International champions:
Adamantīs Clarissa and Adamantīs Living Dream,
both Group winners
Since the beginning I have had only 1-2 litters /year. My purpose has allways been to produce springers of high quality, who are sound with typical lovely temperament and who can manage as well at hunting duties. Sometimes in the beginning of my breeding, times ago, I mixed a bit american blood also in my lines, but during the last 20-30 years I have been concentrating more and more to do my best to get the true classic English Springer spaniel type with all essential lovely things that are included in breed standard.
In the eighties I imported three males made of Cleavehill-lines: INT & FI & NO CH Cairis Little-Big-Man, INT & NORD CH FIW-87 Inu-goya Mountain Crest and FI CH Inu-goya Antaeus. Each one of these boys has had a great influence to my breeding. Inu Goya Mountain Crest was my most winning springer spaniel until Adamantīs Superman was born in the nineties.
Mountain Crest was The Gun Dog Of The Year -87 and won 28 Best of Breeds, 8 Best in Groups and several Best in Shows. This lovely showdog and superb personality was bred by Frank Bjerklund and Terje Johnsen, kennel Inu-goya, Norway. Inu-goya Anteus was bred also by the same breeders and I picked them both up from Norway in April 1986. In the eighties I also did well with my breeding; many new international champions got their titles and we won numerous Best of Breeds, Best in Groups and Best in Shows.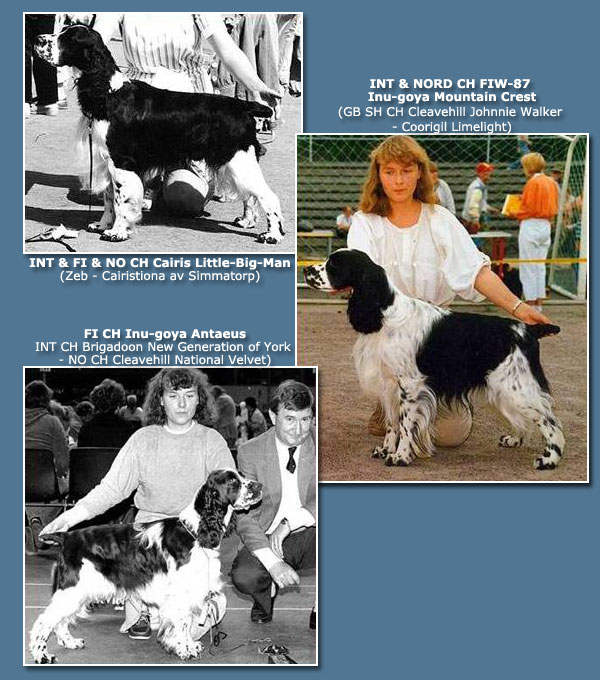 The most winning at this time of our own bred dogs was INT & FI & NO CH Adamantīs Leading Lady, who was sold to Sweden to famous NOBHILL kennel. This bitch won over 20 BOB:s and several Best in Shows and she is still to me one of my personal favourites. Most important to our breeding among Inu-goya Mountain Crest puppies was INT & FI CH Havis Amanda, mother of
INT & FI CH SEW-97 Adamantīs Sound Of Succes.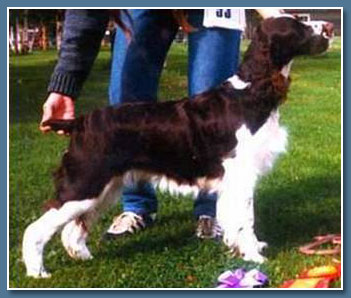 INT & FI & NO CH Adamantīs Leading Lady,
Best in Show winner
(INT & NORD CH Windsong`s Pralin- INT & FI & NO CH Adamantīs Clarissa)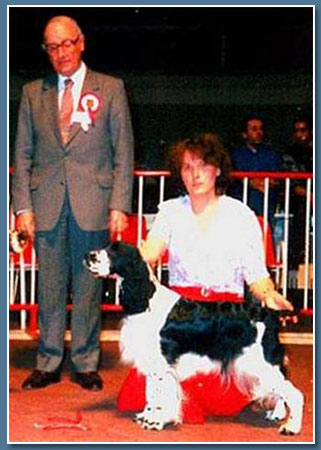 INT & FI CH Havis Amanda, Best in Show winner
She gained her title in Monte Carlo, Monaco, under Leslie Page
(Int & Nord Ch W-87 Inu-goya Mountain Crest - Fin Ch Springdale Life Style)
Most important among Inu-goya Antaeus puppies to us was INT & FI & NO CH Adamantīs Eye Appeal, who was first sold to kennel Inu-goya, Norway, but we were lucky to get her back at 5 years age. She won BIS in Norway and she was the English Springer Spaniel of the year 1992 in Finland. Some other most winning Adamantīs springers in the eighties were also INT & FI CH FI Obed. CH FI Track. CH Adamantīs Robin Hood, INT & FI & SE CH FI Obed CH Adamantīs Madam De Luce and Nordic Winner -82 Adamantīs Ringleader.
Adamantīs Madam de Luce was mother of six champions, three of them got international champion titles. We kept ourselves INT & FI CH Adamantīs Jeanne dīArc (Best in Show winner in all breed show) and Adamantīs La Grande Dame (Best in show-2 in all breed show). Most famous of La Grande Dame puppies was our INT & FI CH, Bodensee Winner -95 Adamantīs Gengis Khan, who got his last ticket in Friedrischafen (Germany) international show, where Ed Simpson (GB) was judging.
INT & FI & NO CH Adamantīs Eye Appeal
Best in Show winner
(FI CH Inu-goya Antaeus
- INT & FI CH Adamantīs Touch of Chance)

INT & FI CH, Bodensee Winner -95 Adamantīs Gengis Khan
Best in Show winner
(FI CH Inu-goya Antaeus
- Adamantīs La Grande Dame)
During all these years every 4. of the puppies I bred gained at least Finnish Champion title and every year at least one INT CH title was awarded to Adamantīs springers. Adamantīs springers have also got champion titles in tracking and obedience and some of them have won as well champion of the year titles in obedience trial and field trials, gundog working included.
In the nineties all of this changed towards super success. We had won a lot before, but the real winning rain became to show its first signs when we got the wonderful bitch INT & FI CH
SEW-97 Adamant's Sound Of Success. She proved to be really worth of her name, she was the first sound of the success I had been dreaming about at early seventies.

Next year 1995 we got both INT & FI CH, World Winner -98, FIW-98 Adamantīs Superman and INT & FI CH Adamantīs Estee Lauder, this wonderful brace has been our lucky strike.
Two important keys for our success have been: in the very beginning of breeding
Multi CH, Multi Winner Salilynīs Passkey,
who was owned by kennel Finnline (left), and then later at '90's
Multi Ch, Multi Winner Whisborne Devil in Disguise,
who was owned by kennels Siegerīs & Whisborne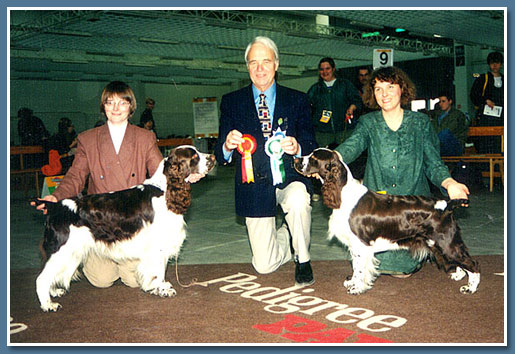 Helsinki International Winner Show -97
Best of Breed FIW-97 Adamantīs Shakespeare (brother of Adamantīs Superman),
BOS Adamantīs Estee Lauder.
Judge Ed Simpson, GB
We had won every now and then during all these years some Best in Show awards with our breeders classes, but when these three were getting their place in our groups we have been winning about 10 Best in Show awards in breeders classes per year and most of these in big international and national all breed shows.

So we gained excellent results in TOP BREEDERS rankig list all breeds:
3. BEST BREEDER IN FINLAND 1996
2. BEST BREEDER IN FINLAND 1997
4. BEST BREEDER IN FINLAND 1998
New millennium year 2000 was one of the the most unforgettable years for us. We hardly believe those records we can not ever repeat, as Adamants springers won
10 x Best in Show, 62 x Best of Breed, 26 x Group 1,
several puppy-, veteran-, progeny- and breeder BIS-breeder awards
in different countries as European, Scandinavian countries and even Australia!!!
It happened amazingly, that we won "Show ESS of The Year" in Sweden, Finland and Denmark
- a record still not broken.

Year 1999 I got judging rights for Springers and after that by now nearly all Gun Dog breeds. So this has changed a little my future plans when judging and educating in that very interesting and lovely new 'profession' will take a lot of time. So there has been a dilemma: to judge more or to continue showing much…my passion of breeding and showing has not calmed down a bit, so here we go, yet more success was waiting us around the corner .
After millennium there were some little bit more calm years with showing, when super stars Adamant's Superman and Adamant's Estee Lauder got older and I noticed I had not saved enough breeding material but had exported some excellent breeding dogs abroad. Adamant's Estee Lauder's sister CH Adamant's Export Quality went to Denmark, kennel Sieger's, where she certainly left her paw marks and is in pedigrees of many great winning ESS. I had no possibility to keep Adamant's Special Colours, who was searching new home as an adult, so she went to Sweden, kennel Whisborne, and the most famous of her children there is certainly Ch, Multi Winner Whisborne Angus Og, who was a remarkable stud dog and is seen in many great winning ESS's pedigrees. Well, I then bought back from North INT CH Adamant's Summer Fantasy, also a daughter of Whisborne Angus Og, dam Adamant's Estee Lauder. "Saara" gave me keys to gain all what I have now got and currently I have best and largest breeding material that I have ever had during my long breeding career.
In the mean time in middle of 2000's there did was a star shining well in show rings: Multi Ch & Winner Adamant's Dreams Are Free. She was "Spaniel of The Year", couple of times "Show Springer of the Year" and was winning many Groups and even BIS-2 in big International all breed show (Oulu). She won also BIS in Springer Club's annual Main Specialty show.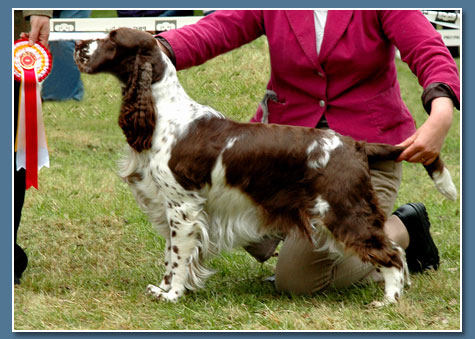 Multi CH Adamant's Dreams Are Free
2005 I had the honour to judge in UK, in Northern ESS Society's club show. BIS went to Sh CH Mompesson Royal Destiny and afterwards I read from catalogue that his progeny had been winning well in many classes, even puppies. I got the idea to ask frozen semen from him and within a month I had high quality semen from him to use; used it first to "Saara" and that combination gave me another once in lifetime dog along with previous "Onni", Adamant's Superman. This one was a bitch "Sophie" C.I.E Multi Winner Adamant's Let Me See, who was shadow of me and my soul friend, we loved each other so deeply. She was a super star, among 8 best show dogs in Top Show dog all breed list year 2010; she was the one and only ESS who has won "Super BIS" in International double all breed show in Scandinavia; she won BIS also in her very first show, and whole 64 BOB, before she tragically died in an accident only at 5 years 3 months age. Also Sophies sisters & only brother HEW-11, FIVW-13, NORD VW-13 Adamant's La Dolce Vita, SE (u) CH Adamant's Lucky Strike and INT & NORD CH Adamant's Let 'em Talk came out of that litter.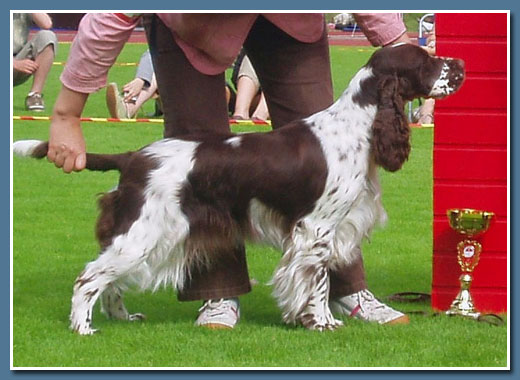 C.I.E Multi Winner Adamant's Let Me See
"Sophie"
I also gave a part of this frozen semen to breeding colleague Sanna Kaven "Wildomar's", to inseminate our co owned import "Julia" INT CH Nobhill Pretty Piece of Adamant and from that litter came also well winning bitch Ch Wildomar's Dig Dub'n Deny; I had last autumn an opportunity to have a litter out of her daughter so even "Julia" will continue in some way in my breeding work, too, even if I never came in to breed her myself.
2009 I started to have such team around, and such lovely dogs, that it became easier to get breeder groups shown in shows, too. They begun show after show to place in BIS finals really well, and in August 2009 in Joensuu double all breed shows Adamant's springers took BIS breeder award both days. After that we really got a roll, and BIS followed BIS…but still we never could dream about winning Best in Show breeder in prestigious, huge international Nordic Winner -09 show in Helsinki! It was 150 !! BOB breeders groups in that final competition running through final ring, gorgeous groups followed in cue..endless amount. We were so super happy when we noticed we were taken in to finalists…but when we finally heard we won BIS, that was a really unforgettable, gorgeous moment to us all! Will remember it always for sure, fantastic feeling, fantastic competition, under prestigious judge Mr Dan Ericsson from Sweden.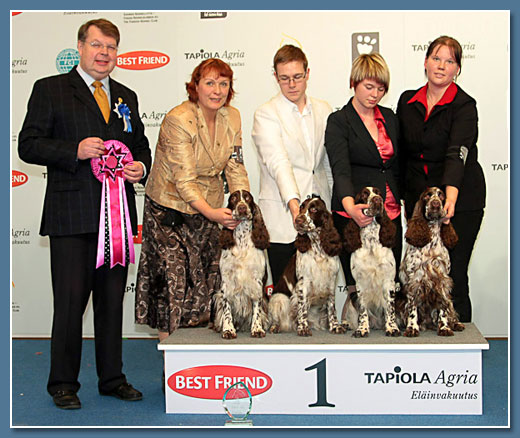 Nordic Winner Show 2009
Best In Show Breeder

Next year we were winning a lot BIS and BIS placement in biggest shows of Finland, Sophie was winning 6 x BIG-1 in a row in huge international shows. So, we then won Top Breeder Finland all breeds – a dream to come true indeed!
Next year gave me a huge shock and my life will never be same since that: I lost my dearest Sophie, in an accident that is never possible to understand how unlucky just one moment in life can be. It has taken years to recover and in those circumstances I never could have believed if someone had said we are going to reapeat Top breeder all breeds win..but so it really happened. Miracles can happen I see, in the end part of year we were winning so much that it was sure already before last competition, that we will repeat the title. It was a win for the team; with out my team around me and their support in difficult sad times I never could have done that.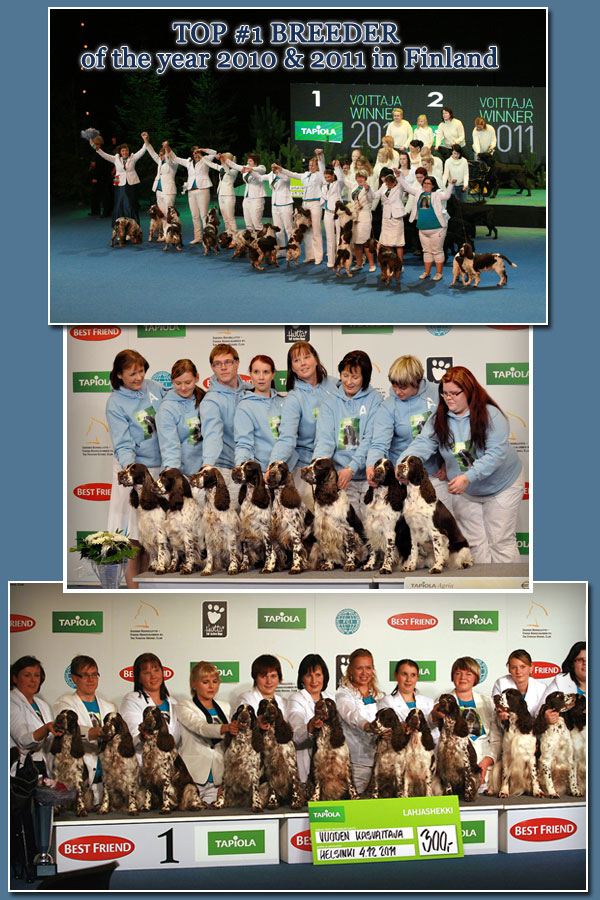 It still looks like as our breeding will go on and now with best ever breeding material to make choices from. We have through years exported puppies also to for excample to other Scandinavian countries, Germany, USA, Canada, Italy, France, Puerto Rico and it is allways so nice to see if there is some benefit for the breed itself from our exports and of course the happiness of puppy owner home and abroad is the best salary of your hard work. There is allways yet more to learn about this wonderful breed; it is all life time lasting passion!