:: News 2014
:: News 2015
:: News 2016
:: News 2017
:: News 2018
:: News 2019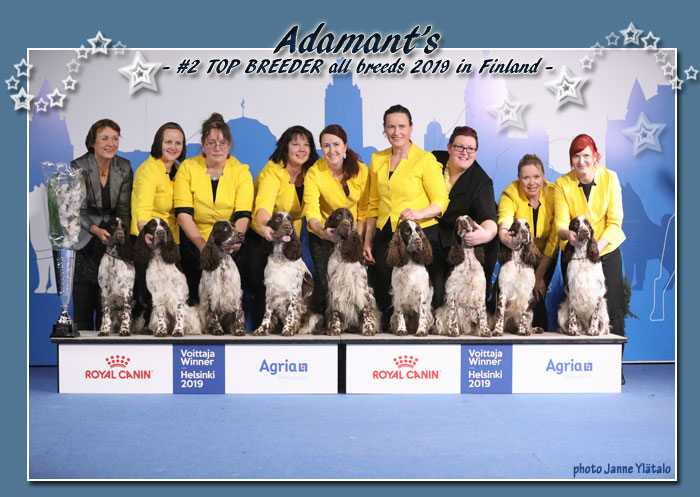 We had once again such a fantastic year!

Our breeders groups were winning countless amount BIS-wins and BIS-placements and so we are
#2 TOP BREEDER ALL BREEDS FINLAND 2019!!!
Time to celebrate again and say huge thanks
to all lovely puppybuyers for being so active in showing your springers around!
And huge thanks to all others too for keeping your springers happy and healthy and giving them good life as beloved pets.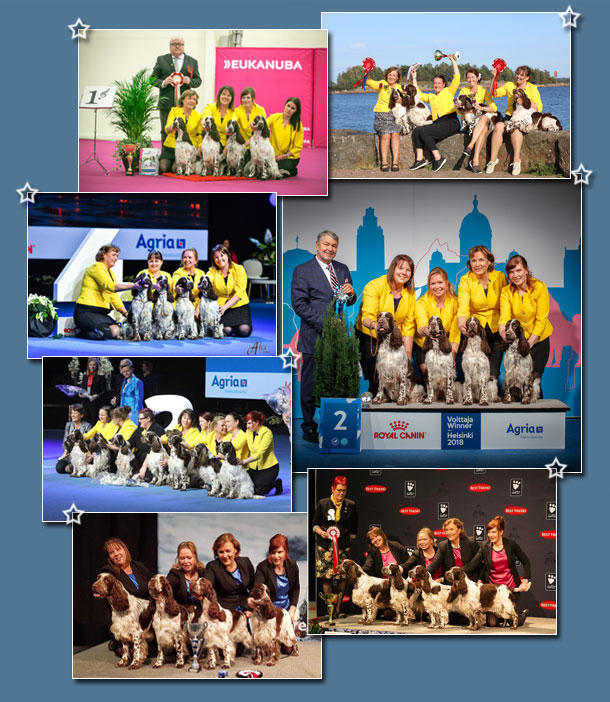 We got many new Champions under 2019:

FI & EE MVA ADAMANT'S JUBILEE JEWELLERY IS FOREVER
"Martha"

C.I.E FI & EE & BY MVA BYV-15 ADAMANT'S FOLLOW YOUR STYLE
"Gizze"

FI & EE & LT MVA LV & EE JMVA TLNJW-18 ADAMANT'S KILLER QUEEN
"Kilde"

FI & EE & LT MVA LV & EE JMVA TLNJW-18 TLNW-18 ADAMANT'S DON'T STOP ME NOW
"Pongo"

FI & EE MVA ADAMANT'S BOHEMIAN RHAPSODY
"Aawa"

EE & LT MVA TLNW-19 ADAMANT'S CLASSIC QUEEN
"Lara"

FI MVA EEV-18 ADAMANT'S JUBILEE LET'S TWIST AGAIN
"Elsa"

LT MVA BALT & LT & LV & EE JMVA LTJW-18 EEJW-18 LTW-19 ADAMANT'S RIDE THE WILD WIND
"Tico"

Big Congratulations to all!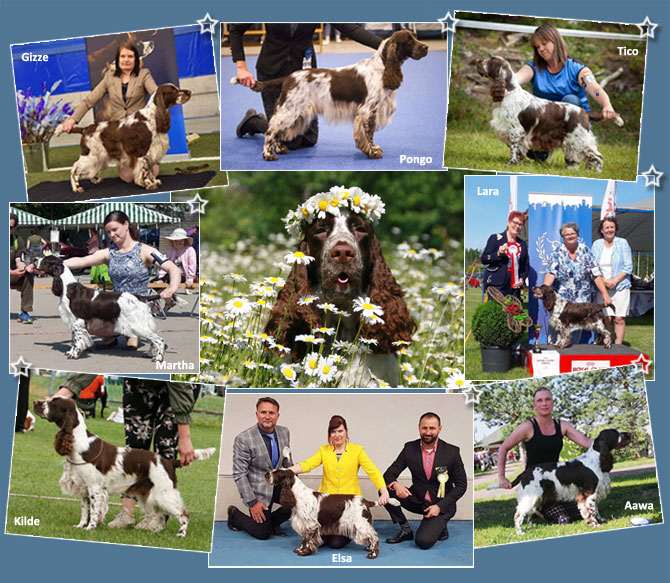 We got a new star, when our funny super happy girl

ďDahliaĒ

FIJW-19 HEJW-19 NORDJW-19
ADAMANT'S DRAMA QUEEN

entered showrings in June 2019.

She went straight away to BOB and BIS-2 puppy
in both Spaniel Main Specialty and Springer Main Specialty shows!

She continued in August as we took her with to our Danish Bornhol trip just to get used to travelling by boat and see the world around... she went there BIS-3 puppy in ids show!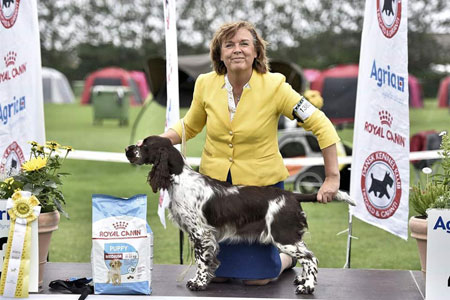 In her very first adult show at tender age of 9 months she went BOB and took her first CC... now she has already 5xCC, one from Nordic Winner-19 show in Sweden and also two NORDIC CC s as so young! She has been placed BIG-3 and BIG-4 in groups. Waiting eagerly what does the future give to this bounching most sweet girl :)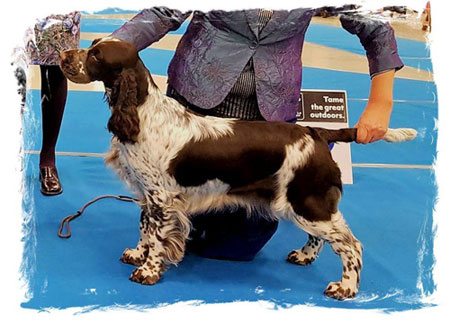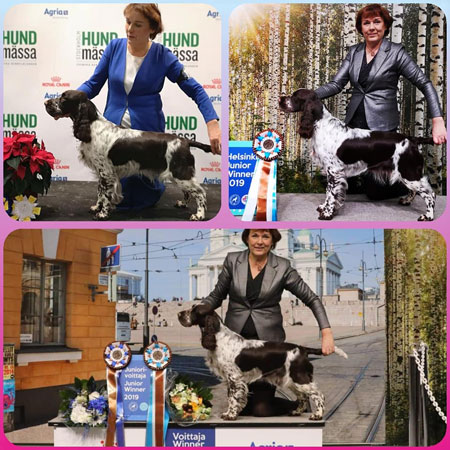 Her brothers Adamantís Don Quixote and Adamantís Dancing With Stars did well in puppy shows.
"Uuno" A. Don Quixote won even group and BIS-4 in all breed puppy show and brother Willy BIG-4
and as adult Uuno has CC and res CC & Nord res CC.
Our now 11 years old Grand Old Lady
C.I.B C.I.E FI CH EE VCH EE CH LV CH PL VCH LT CH SI CH RU CH BALT CH LV VCH LT VCH HR VCH NORDJW-09 FIW-11 BALT VCH RKFV EEW-10 LTW-12 EEVW-17 DKVW-17 FIVW-17 HeVW-17 NORDVW-17 SEVW-17 EEVW-18 BENELUXVW-18 EUVW-18 FIVW-18 LTVW-19 SPLITW-19
GOLDMOORE'S MAKE IT HAPPEN

ďDorisĒ

had just a fantastic year!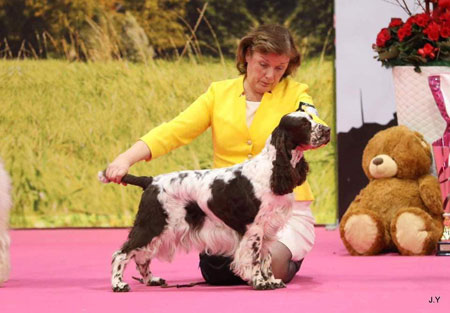 She begun her year winning BOB in Turku ids and also BIS-4 veteran there, continued in other Turku ids later winning BOB and BIG-2 and she picked several top BIS placements in veteran classes in many ids/nds shows.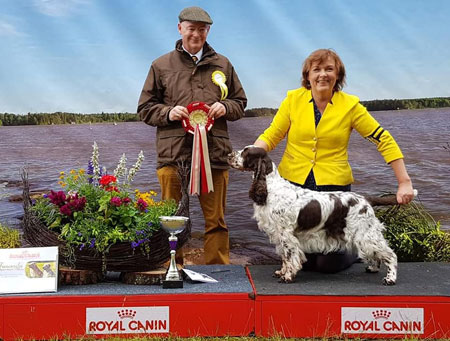 In Springer Main Specialty she was BOB and BIS-2 veteran, then in hot Tuusula Nord in hot competition she won Best in Show veteran and also BIS-vet in Rauma nds.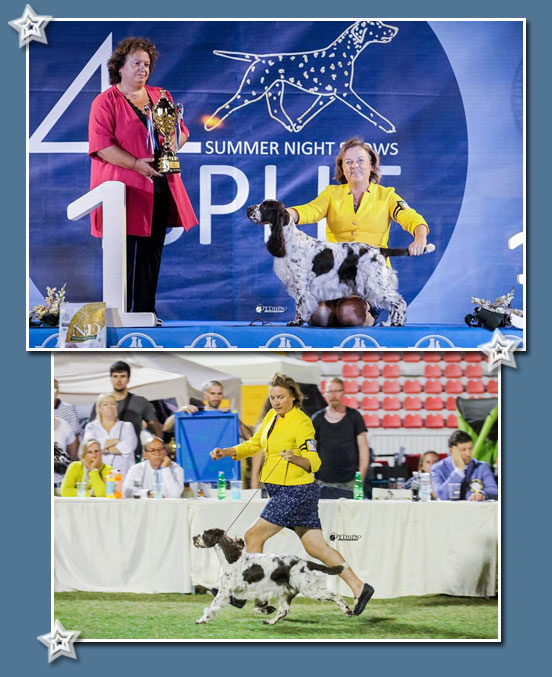 ..then she won BOB and Split Vet Winner title in hot Split shows and once BIS-2 veteran there and in one day Best in Show veteran!
Now she is looking forward to retirement, but the wonderful memories of her unbelivable lovely show career in veteran classes will allways be in my heart, she has been really such a brilliant pleasure to show, when she just loves it and gives always her very best in hot sunshine and rainy stroms too. Now she seems to be shadow of mine, follows me everywhere where she can and wants to be very close to me.

Doris became 3. time in row
TOP ESS VETERAN of the year

and she became again
#5 on TOP VETERAN OF THE YEAR ALL BREEDS list.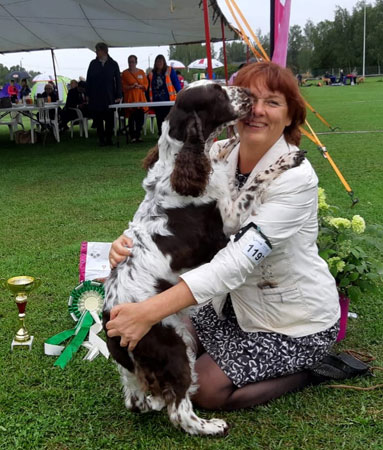 C.I.B C.I.E NORD CH FI CH DK CH SE CH(S) NO CH EE CH LT CH RU CH EE JCH HR CH(S) NOJW-14 FIJW-14 HeJW-14 SEW-15 SEJW-15 EEW-15 EEJW-15 WW-16 EUW-16 BENELUXW-16 BEW-16 SEW-16 FIW-17 SEW-17 HeW-18 EEW-19 SPLITW-19 HeW-19
ADAMANT'S OVER THE MOON

ďFionaĒ
had another fantastic year,

which was crowned as 5. time in row as
#1 TOP ESS OF THE YEAR!!
She will be 6 years in January 2020,
so she has been #1 ESS in this country through all her life :)

She had a lovely weekend in March in Joensuu double ids shows, as she won first day BOB; BIG; BIS-3 and and then next day she won BOB, BIG-2.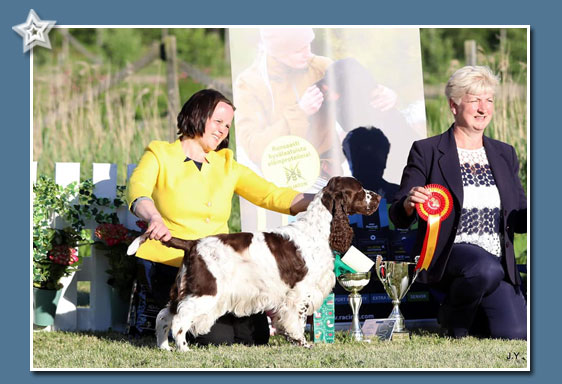 She won BOB and BIS-2 in Spaniel Main Specialty show in June
and week after that she went BEST IN SHOW in Springer clubís Main Speciality show!
We had also other wise just a PERFECT day in both these specialities:

in both of them our puppy Adamantís Drama Queen was BOB, BIS-2 puppy and in both of them we won Best in Show breedersclass.
In Springer Speciality Adamantís Fortune is Future won BIS progeny class, and "Doris" Goldmoores Make It Happen won BOB, BIS-2 veteran.
In Spaniel Speciality Adamants Proudly Presents won BIS-4 veteran.
"Fiona" was BIS-2 in Spaniel Speciality and BIS-1 in Springer Speciality when Adamantís You Know My Name was BOS in Springer Speciality and Adamantís Real Trouper BOS in Spaniel Speciality!
Adamantís Keep The Dreams Going On won BIS-1 Junior in Springer Speciality!

Days to remember!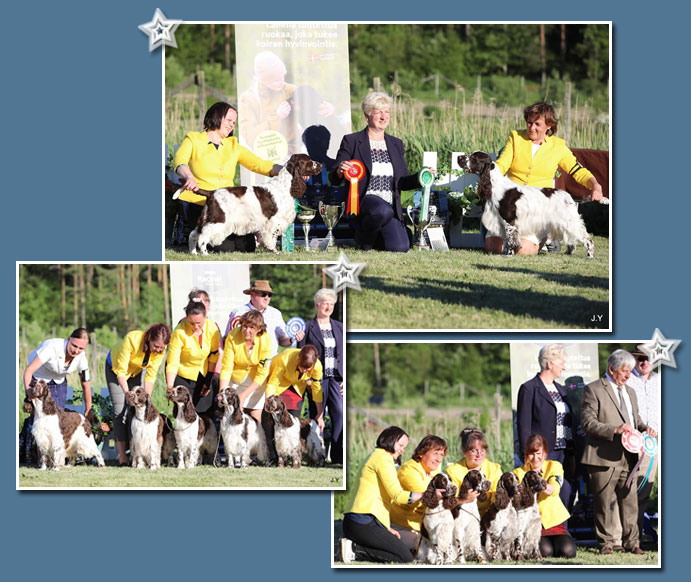 Next month Fiona won even best bitch 1 and BOS in Swedish ESS Club Show!
She won in July also Split Winner-19 plus Croatian Champion titles to her credit and in August she won BOB in DK Bornholm and finished her Danish CH title, too.
In Helsinki Winner-19 shows she went BOS first day and won HEW-19 title to her credit.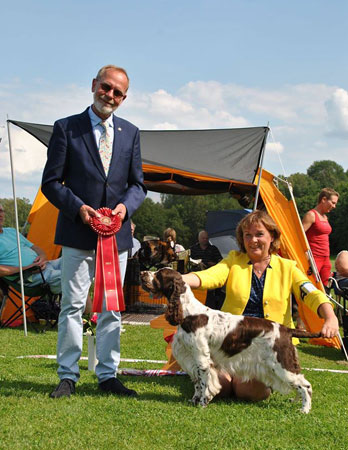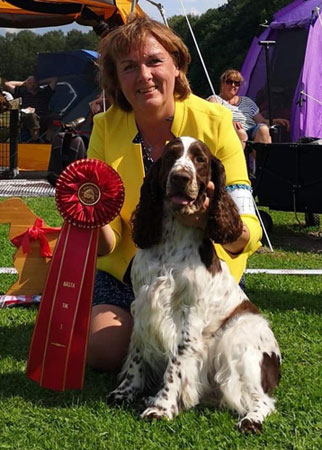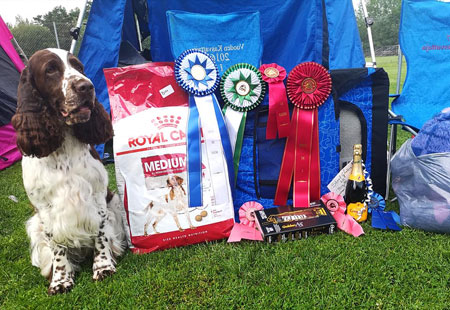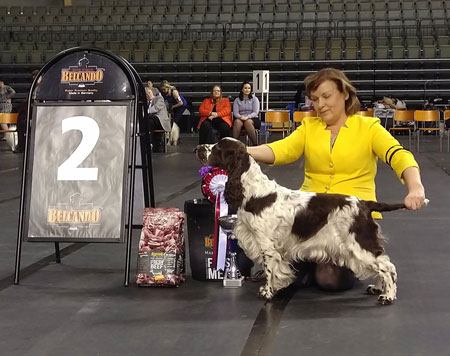 Fiona's mother

C.I.B C.I.E NORD CH FI CH SE CH(S) NO CH EE CH LV CH LT CH RU CH BALT CH LV JCH EE JCH LVW-12 LVJW-12 EEW-12 EEJW-12 HeW-13 SEW-13 NOW-14 LTW-16 HeW-17 HeVW-18 HeVW-19 NORDVW-19
ADAMANT'S FEELS LIKE FLYING
ďNelliĒ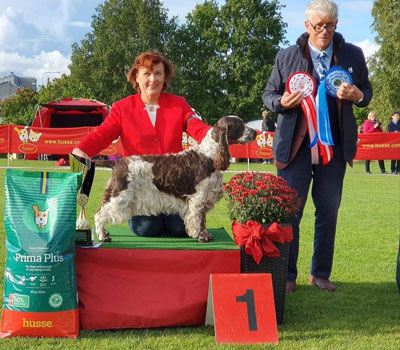 was first part of year little bit in shadow of mother Doris in veteran classes, but in autumn time she got her place to shine on and went Best in Show veteran in Porvoo nds,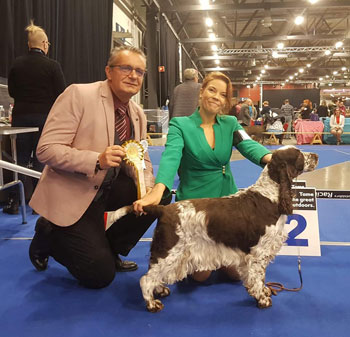 BIS-2 veteran in huge Jyvšskylš ids
and also in Kouvola Group show BIS-2 veteran.
She won HeVW-19 plus NORDICVW-19 titles to her credit too.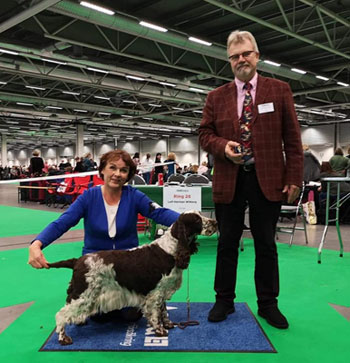 Some other nice wins

We had many super successful trips also abroad through the year.

Actually all of them were succesfull. For excample our Lithuanian winner show weekend was just perefct.
Adamantís Long Live The Queen and Adamantís Real Dream became international champions there,
Adamantís Ride The Wild Wind became Champion, we got all bitch Winner titles from junior to veteran.
Our dogs won Group-1 on 2 days out of 3 in super competition...
Group winners were A. Take The Cake and his son A Ride The Wild Wind.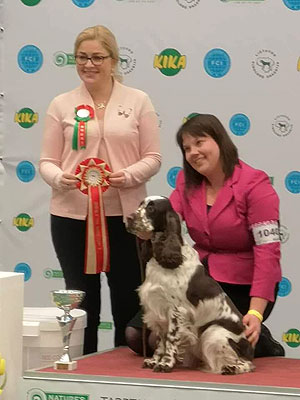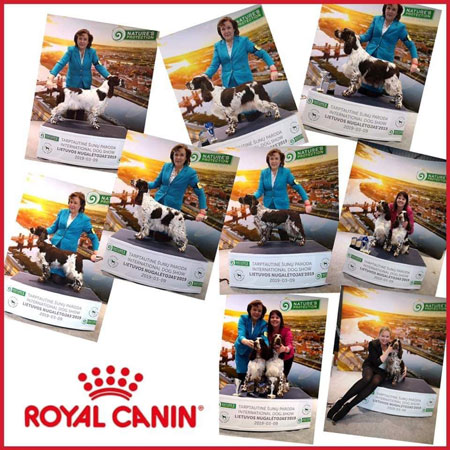 Adamantís Take The Cake
won later on next summer another Group and even Best in Show in Kouvola Group show.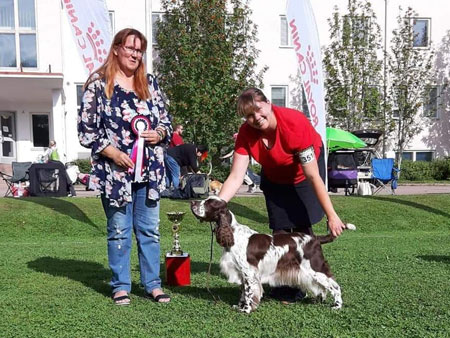 Young "Oliver" Adamantís Keep The Flyg Flying On
begun his show career by storm winning best male 1 and CC straight away in his very first adult show in Turku ids!
During the year he picked many more CCís to his credit and was even BOB and BIG-3 in group show and in Kuopio ids he was BOS and later on went BIS-2 junior in top competition!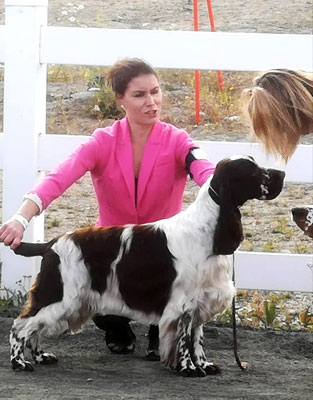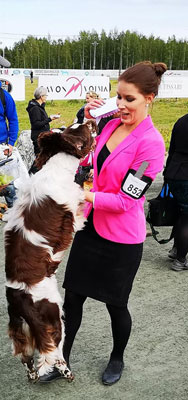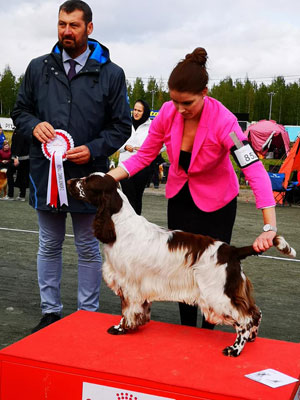 Sister "Hertta" Adamantís Keep The Dreams Going On
picked also plenty of CCís during the year and even her first CACIB and she went BIS-2 junior in Kotka ids and also BIS-junior in Springer Clubís Main Speciality show.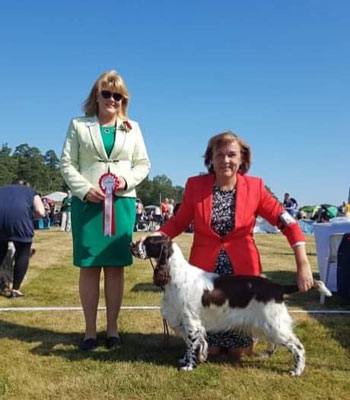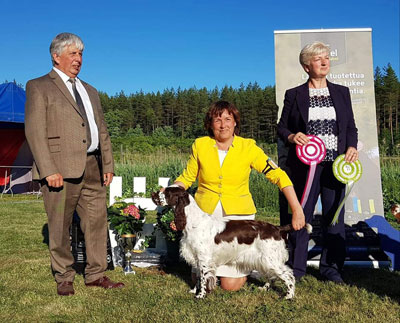 Our puppies were also shown in many puppy shows.


"Sina" Adamantís Nobody is Perfect But Me
won 2 x BIG-1, many more placements in Groups and also BIS-3 and BIS-4 in all breed puppy shows,
she was BIG-placed also in both of Helsinki Winner show weekend puppy shows.

Brother "Nasse" Adamantís Night Hawk
won BIG-1 and also some BOS wins in puppy shows,

also "Uuno" Adamantís Don Quixote
won 2 x BIG-1 and 2x BIS-4 in puppy shows,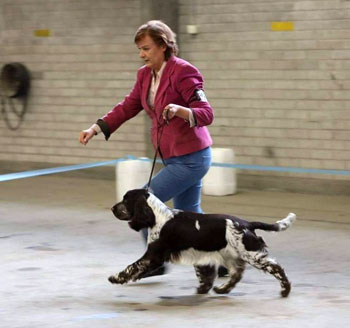 Uno's brother "Willy" Adamantís Dancing With Stars
2x BOB, 2x BIG-4
and my own "Dahlia" Adamantís Drama Queen
won BIS-2 in both Spaniel and Springer annual speciality shows and BIS-3 in Bornholm, DK , ids show.
We had a great year also in tracking tests, particularly it was a year of girl power!
These three girls:
Adamantís Let Me Dream Again,
Adamantís Bohemian Rhapsody
and Adamantís Killer Queen
were entered alltogether in 9 tracking tests and as a result it was 9x 1st prizes!!!
Pippa (A. Let Me Dream Again) is already a tracking champion, and these younger girls sure will be on some day.