:: News 2014
:: News 2015
:: News 2016
:: News 2017
:: News 2018
:: News 2019

"Fiona"

C.I.B C.I.E POHJ MVA FI MVA SE MVA(N) EE MVA NO MVA LT MVA RU MVA EE JMVA NOJV-14 JV-14 HeJW-14 SEV-15 SEJV-15 EEV-15 EEJV-15 MV-16 EUV-16 BENELUXV-16 BEV-16 SEV-16 V-17 SEV-17 HeW-18
ADAMANT'S OVER THE MOON

arrived back in showrings after her maternal duties late summer 2018 and did it by storm!

She went to win double BOB, double BIG-1 and BIS2- BIS-1 in Tuulos group shows,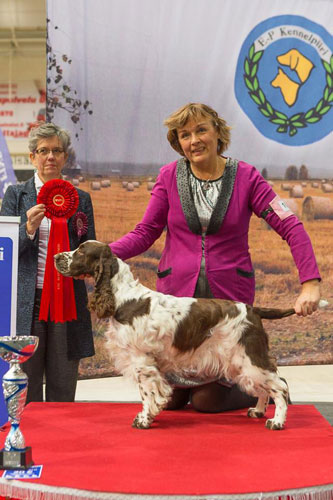 soon after that she was starring Seinäjoki ids winning top quality group again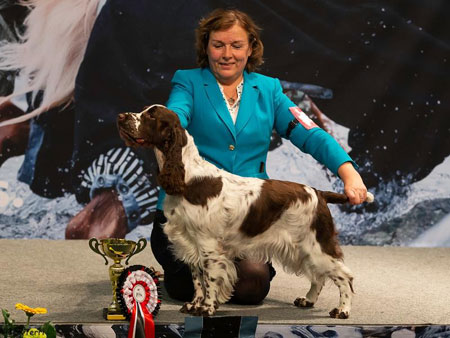 and then in Jyväskylä ids she went BIG-3 under well knows gundog specialist Frank Kane, UK .
In Helsinki Winner she went BOB and BIG-4
and so she won yet again #1 Top Show ESS Finland 2018,
even if shown so short time of the year!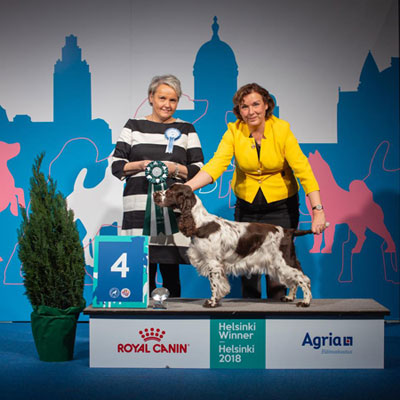 "Fiona" and "Jedi"

C.I.B C.I.E POHJ MVA FI MVA SE MVA(N) NO MVA RU JMVA EE JMVA JMV-16 EUJV-16 BENELUXJV-16 NOJV-16 JV-16
ADAMANT'S REAL TROUPER

both owned by Suvi Parviainen were often seen as BOB/BOS making the double!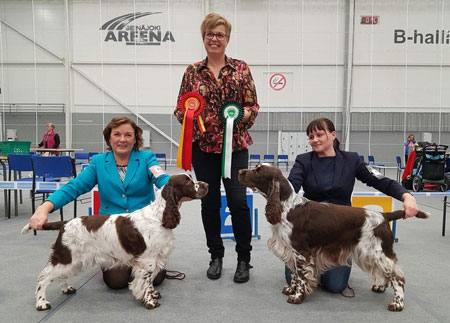 at Seinäjoki ids under Theres Johansson, Sweden.
Jedi became #1 Top Show ESS male Finland 2018.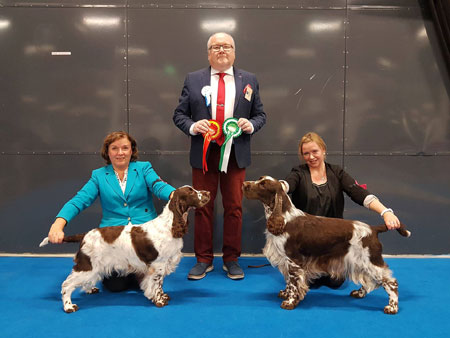 Fiona & Jedi






"Doris" Goldmoore's Make It Happen had a fabulous year as veteran!

She was #1 Top ESS veteran 2018 and also Top #5 veteran All breeds.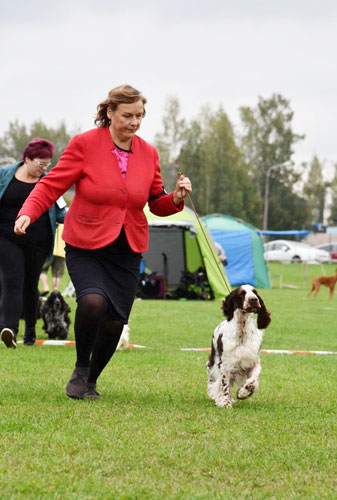 She won numerous BOB veteran wins, BIS-veteran placements,
and also BIG-1, BIS-4 in Helsinki nds!

She gained several new champion titles, one of those being EuVW-18 and Pl Vet Ch.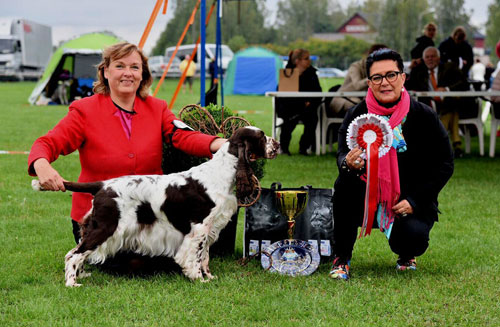 Doris winning Group-1 in Helsinki national all breed show
judge Gitte Finnic Pedersen, Denmark
photos Pirre Jurvanen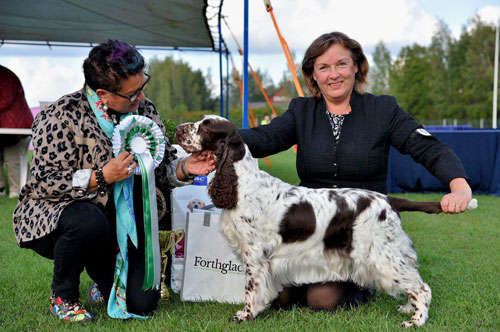 Doris BIG-1 & BIS-4 in Helsinki nds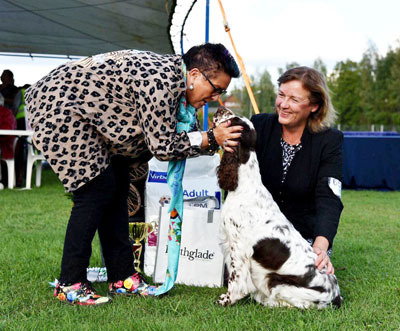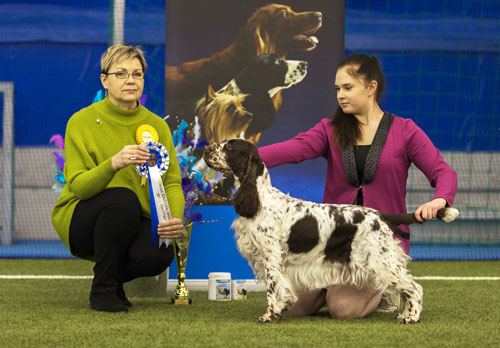 Doris winning BIS-2 veteran in Imatra IDS
judge Jurate Butkiene, Lithuania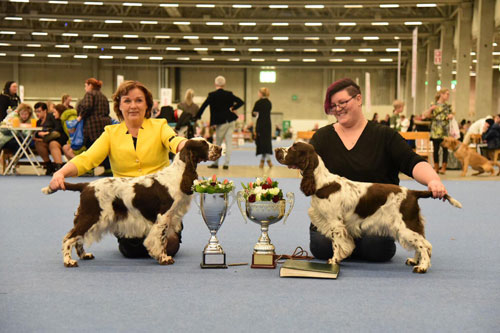 TOP Show ESS 2018 Adamant's Over The Moon "Fiona"
TOP Show ESS Veteran 2018 Goldmoore's Make It Happen "Doris"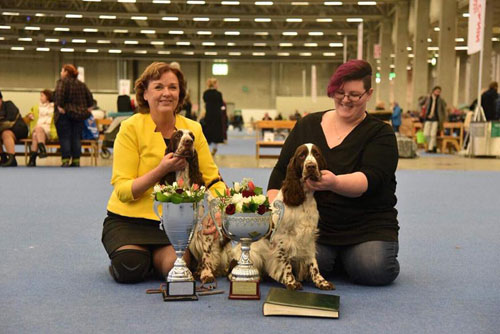 There were many young hopefuls in our team as well,
gaining many CC wins, BOB, BOS and other wins: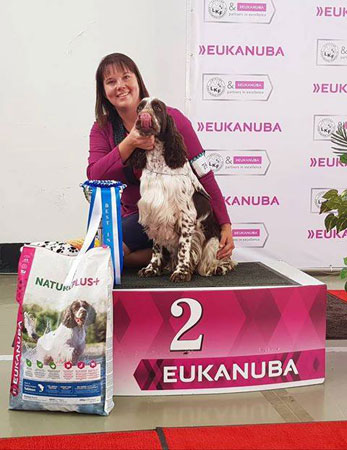 "Tico" Adamant's Ride The Wild Win
picked 15 x CC and won BIS-3 junior in Estonian Winner-18 and Group-1, BIS-2 in Latvia.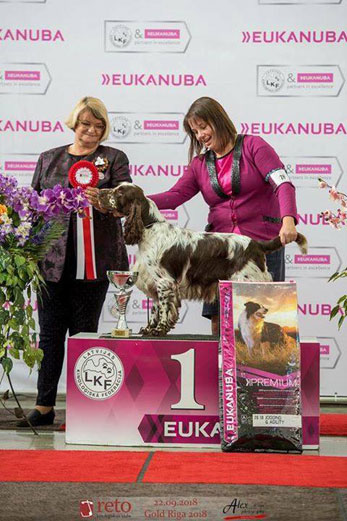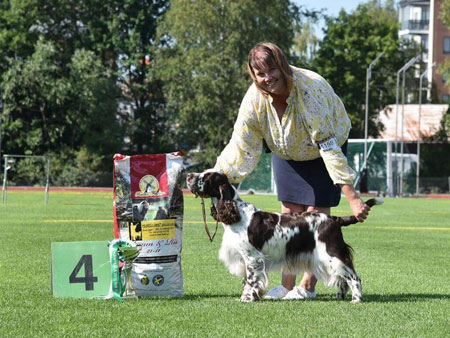 His mother "Frida" Adamant's Take The Cake
was the most shining star of our team at summer time
and gained many BOB wins and even BIG-1, BIS-4 in Mäntsälä all breeds show.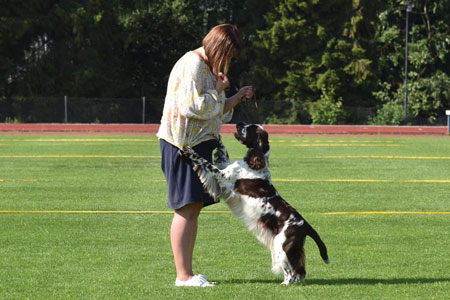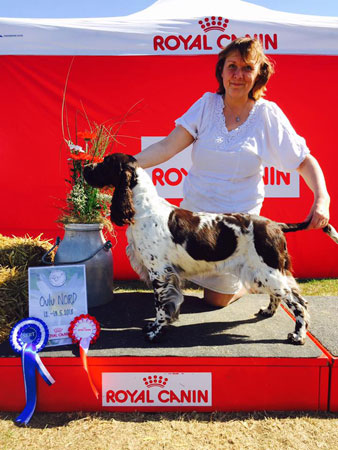 "Lara" Adamant's Classic Queen
and "Tilda" Adamant's The Millionaire Waltz
both won Royal Canin Junior BIS finals,
and are among those 5 qualified to compete about TOP RC JUNIOR Grand Prix in next May.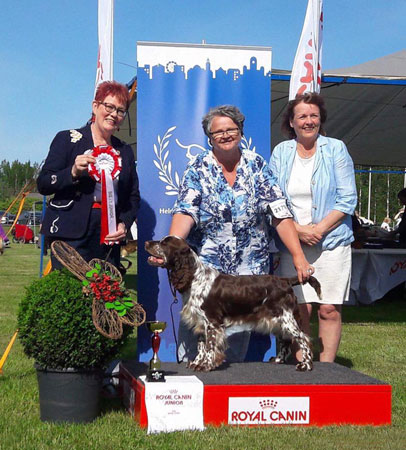 Adamant's Don't Stop Me Now picked many CC-wins and even many BOB/BOS wins to his credit, also Adamant's Killer Queen, Bohemian Rhapsody and You Don't Fool Me were new CC-winners.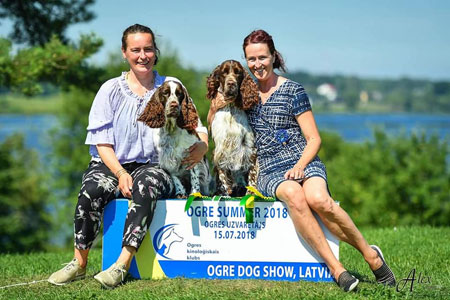 "Pongo" Adamant's Stop Me Now and his sister "Kilde" Adamant's Killer Queen,
here pictured in succesfull Latvian trip.

Breeders classes were winning busily plenty of Best in Show and also plenty of BIS-placements in many ids, Nordic and nds shows, and also in Group shows.